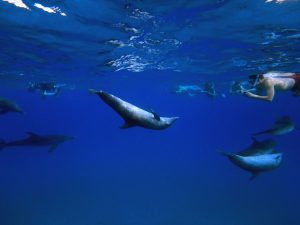 More student blog posts headed your way! On Thursday, Nicole returned to Bimini and on Friday we welcomed our third 2019 university field course. This time: DCP Research Collaborator Dr. Deirdre Yeater and students from Sacred Heart University. They have 6 packed nights ahead of them. We hope you enjoy their stories!
-Kel & Nicole
We got up waaaaay too early. At JFK, our plane got stuck on the tarmac for over an hour, due to a malfunction. But our pilot took off with courage and grace, getting us safely to Fort Lauderdale in a jiffy. We waited for a shuttle – it was a cool shuttle bus. Our driver was perhaps a bit fed up with other passengers, so repeatedly instructed us to pay attention to the stops. Meanwhile, one of us was waiting patiently at Terminal 1, already having arrived. We ran through security and only made the flight thanks to a delay. We didn't grab lunch, but we happily boarded the flight of a lifetime on the little prop plane after Cass sorted out a plan for her lost bag! She got on the flight despite pressure from airline folks to stay. The plane was hot and the other passengers were, ummm, entertaining. We landed at the tiny airport (Bumpy! Wiggly!). At customs, Andrew got his bag searched but thankfully he's not a rule breaker, so he was fine. 12/14 of the group hung out in the van, enjoying the local music, as Cass tried to firm up a plan for her bag. The van brought us to the water taxi – we weren't sure why someone was jokingly asking us if we brought candles. (There have been some electricity issues on the island).
We arrived at the Sea Crest and immediately saw two sharks and a stingray in the marina. We met the lovely DCP crew and got the rules – "so we could break 'em" (says Jesse, with a glare from Kel. Just kidding!). Then….
We hopped on the boat. As we cruised out of the harbor, Kel explained all of the boat rules and hand signals to ensure that we and the dolphins are safe during this experience. BOOM. BOOM. Dolphins on the bow! Within what felt like five minutes, the crew saw dolphins up ahead. It was group of bottlenose dolphins. It was amazing; we were awestruck. They were bigger and closer to the boat than we expected. There were moments when it seemed like they were teasing us – "We can swim faster than you!" There were nine dolphins in the group, and they were initially seen at about 330° from the bow in a Beaufort sea state of two. These dolphins were moving, so we watched them for a bit, while Nicole snapped photographs for photo-ID, and then headed in search of others.
We cooled off and tested our snorkel gear, making sure we were comfortable getting on and off the boat. We searched and searched, eating apples and goldfish and then taking a swim break to wake ourselves up. As we headed back to the island, we were thinking about the end of the day, losing hope for dolphins – then, we heard Nicole echo, "Dolphins off the bow, dolphins off the bow…." Though we would normally have watched the dolphins for a while, it was late in the day so we headed to the stern to get our snorkel gear on. Under water….
We saw it was a group of Atlantic spotted dolphins, a mix of juveniles and sub-adults. There was a lot of belly-to-belly swimming and pec to pec rubbing. At times, their mouths were open, jawing at each other. Dr. Yeater and Kel commented on how quiet the group was, but as first-time students we noted their vocalizations. There were some small jellyfish in the water, but thankfully these stings are nothing worse than a mosquito bite. The dolphins were so close to us in the water, swimming toward us. Abbie was amazed when one swam right under her. It was an incredible adrenaline rush!
We got back on the boat, very happy with the day. On the bow, we watched the group ride the bow of the boat; soon most dolphins left, but two stayed on for a long cruise. We got back to the dock a little late, but grabbed our showers and then met for dinner. Nicole made us an incredible stirfry – we were so hungry there was almost no talking at dinner as we scarfed it down.
Until tomorrow,
The Conch-erers (SHU 2019)
PS: Find this all intriguing? Sign up for our 11 – 16 August 2019 eco-tour! All the fun of a field course, but you don't have to wash dishes! Click here for info.