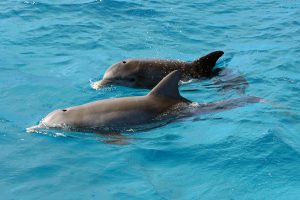 Friday morning's class covered research methodology, including the science behind DCP's mobile video acoustic array (MVA). We also talked about ethograms and their use in studying animal behavior. We used our morning break to search for non-US KitKats, but alas, we had to settle for the U.S. versions. Our search will continue…
We had Caesar salad for lunch (!) and then departed just before 14:30 in search of dolphins. The day started out slower than our past trips, but the sun was shining! We kept our searching spirits up with karaoke on the bow and woke ourselves up with a swim break halfway through the trip. As soon as we got back on the boat, we saw dolphins! It was a group of 3 bottlenose. They checked out the boat, but were mostly just surfing and cruising. So, after Kel and Nicole got a few dorsal fin photographs, we resumed our search.
About 20 minutes later, we came upon our first spotteds of the day. There were five, including two calves and one juvenile. They weren't staying in one spot; even the calves seemed to be doing their own thing, away from their mothers. We tried to swim with them, but after a quick fly-by, they were off. So, we watched them from the boat for a bit longer. We headed back toward shore, hoping for a late, last sighting, but no luck.
Back at the Sea Crest, we all enjoyed dinner which included local peas n rice and conch n rice – thank you, Sister Jen!! It was soooo good and dish crew did an awesome job scrubbing the pans. Last up: Friday movie night! We watched BBC's Inside the Animal Mind: Secrets of the Social World. It was so cool to see the very same boat that we've been using this whole week – and some of the same dolphins. The show included other species and it was helpful to see the ways in which ideas about one species can be applied (or not) to others. It was weird to hear the host refer to dolphin "language," but good to then hear scientists refer to dolphin "communication." If only there had a been a soundtrack by Sting….
Until tomorrow,
Roll Kerns (EKU 2019)