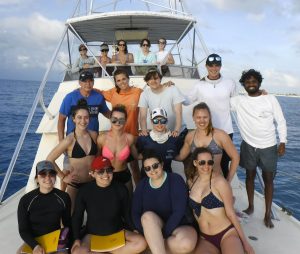 Friday was the UNBSJ students' last full day on Bimini. It has been a really great group! Nicole and I always look forward to our Bimini field courses and this was no exception. The students spent the morning writing yesterday's blog post and discussing eco-tourism in the context of their experiences this week. Then it was skiff rides to a small mangrove island on the edge of Bimini harbor. A little free time and a quick lunch and suddenly it was time for our last dolphin trip.
We headed out and though there was still a stiff wind, it was calmer and sunnier than yesterday. We hoped this would make it easier to find dolphins, but first up: "3 Sisters" for a snorkel stop. We all had a great swim to the big sister and enjoyed searching for new creatures, including parrotfish. Back onboard, we resumed our search. While an underwater observation wasn't in our cards, we did enjoy some great views of a pair of dolphins who were surfing about and riding the bow of our boat. We'll be reviewing the surface photos (the older dolphin had a very distinct dorsal fin) soon.
Back on land, we enjoyed our last group dinner and most of us ventured to Sherry's on the beach. Sherry's daughter 'Nishka treated the students not only to tasty treats, but a dance lesson to the local song, "Hold Ya Head" by Stevie S. That got them started on goofy dance song after goofy dance song. What a great finale!
Nicole and I will say farewell (for now!) to this group on Saturday morning. The week flew by!
Thank you to Dr. Turnbull and the whole 2019 UNBSJ crew! And, thank you to Captain Al and the Sea Crest Hotel & Marina for providing logistics for another great program!
Until next time,
Kel, Nicole & the Crispy Canadians