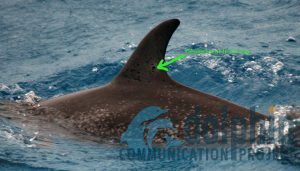 Thursday morning, we had lecture time – topics included coral reefs, lionfish and the Bahamas Marine Mammal Stranding Network. During the network talk, we learned about DCP ID#104 (aka "Lamda") who stranded last summer and was rescued, rehab'd and released. His tagging info was really interesting (he went so far!!) and Kel is clearly obsessed with seeing him again (see this blog post for details on his last sighting).
Our boat trip began with a snorkel stop at "The Bimini Road" (aka Atlantis, The Road to Atlantis). Jen & Shandraya found a rock that really looked like a skull. We were on the lookout for turtles, but Joy had to shiver back to the boat without a sighting. Dolphin searching began after the snorkel. Our first sighting ended up being a group of seven bottlenose dolphins. At first, it was just one dolphin, surfing straight toward our boat (unusual for a bottlenose, so at first we thought it was a spotted approaching). Soon there was a second, a third and suddenly four more dolphins were surfing near our boat. This group stayed longer and closer to the boat that our other bottlenose sightings. They weren't crater feeding (as far as we could tell), but rather cruising the gnarly waves. After a nice surface observation, we said bye to these dolphins and continued our search…
Only a few minutes later, we spotted the first spotteds (ha) of the day. And how considerate: there was one dolphin for each student! This group of 13 was very busy. They were breaching, bow riding, porpoising, sort-of-spy hopping; there was a tail slap or two, and a lot of surfing. We followed them a pretty far way, getting close to the edge of the drop-off (deep Gulfstream water). The group was a mix of ages – some very spotted (old C5s/adults), sub-adults and even some young juveniles. They were often seen in pairs or groups of three. Twenty-four minutes into the sighting, there were only two dolphins with us, but they continued their activities, surfing, bow riding and leaping. Kel & Nicole were getting awfully suspicious of the dark spot on both sides of the sub-adult's dorsal fin….Hmmmmmm…..
At least some of the original dolphin group returned (perhaps some different individuals too) and we watched them for a bit longer as the wind picked up. With building seas, we said bye to these dolphins and headed closer to shore. In slightly calmer seas, we saw a different group of spotteds: two presumed mother/calf pairs. We grabbed a swim break, hoping it might include some dolphins – and it did! We saw the smaller calf nursing (!) and the older calf perhaps getting a lesson in a feeding at the sea floor. The older calf had its first few spots, so hopefully DCP will be able to add it to their catalog. It seemed like its mother was finding fish, digging them out and then letting the little one catch them. The tiny calf "was the most adorable thing you'd ever seen in your life."
Back on land it was dinner and a serious homework session. Kel and Nicole were huddled around their laptops, comparing photos of the sub-adult with the strange dorsal spot….and…it was #104!! Lamda's tag is out. The dorsal fin is well healed, as you can see in this photo. And Lamda seemed well integrated into yesterday's dolphin group, behaving typically compared to the rest of the group. To say that Kel and Nicole were excited would be the understatement of the year. Yay!! Kel relayed the info to the team who worked so hard to rescue, rehab, release and monitor Lamda: Bahamas Marine Mammal Research Organisation, Wild Dolphin Project, Atlantis Bahamas and Sarasota Dolphin Research Program. Next, time for bed – tomorrow is going to be a busy last full day!
Until then,
Crispy Canadians (UNBSJ 2019)