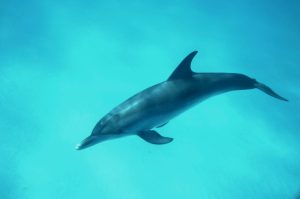 Manon is in Bimini during DCP's off-season, doing data analyses her Master's project. But, that doesn't mean she doesn't want a chance to see the dolphins! Soon after arriving, she and Kel went in search of #104 ("Lamda"), but didn't see any dolphins. Here, Manon describes finally getting to see the Bimini dolphins!
"Several weeks have passed and after few failing attempts to go out for dolphins because of poor weather conditions, last Thursday was the day. DCP did not have any research trips scheduled, so I played tourist and joined a dolphin trip from North Bimini. A beautiful sunny day, calm sea, the perfect conditions to go out looking for them. After more than an hour and a half at sea and no sight, even the crew started doubting until… "Dolphins!!". Finally, my first sight of our spotted dolphins! And even if I am just a tourist today and not with DCP, the first encounter was amazing. We came close to a little group of two adult females with older calves/young juveniles. As you can see, one of the young came very close to us… We stayed few minutes with them before heading back home.
On our way back we stopped at the Three Sisters, a nice snorkeling spot near the island. There was a lot a large schools of fishes with bright colours! But it was time to go home… to share all of this with Kel and just in time to watch a rocket launch from Florida – online anyway!
I look forward going out with DCP in few weeks for more dolphins!"
The following Tuesday, with her kids home from preschool for Easter break, Kel gave a casual presentation to the swimmers at a local swim camp. The week-long swim camp is free to local kids and hosted by Waterkeepers Bahamas with Swim Tayka and Save the Bays. It was so much fun talking about different species of whales and dolphins, including those found right here in Bimini's backyard and elsewhere in The Bahamas. And stretching the rope out to see the length of a blue whale was pretty impressive. We could hardly shout that far! Thank you so much to the swim camp instructors for not only welcoming Kel's kids, but welcoming Kel and providing this great service and experience. Keep swimming, Bimini!
Until next time,
Manon & Kel
PS: Did you hear? We've just added a new chance to come to Bimini and experience DCP's research and Bimini's dolphins first-hand. The new session is Aug 11 – 16, 2019. Click here to read more and get your deposit in!