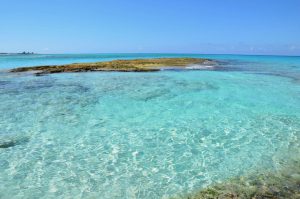 Introducing, DCP's spring intern, Manon! Manon is a Master's student from France who has spent about 5 weeks working at DCP's Florida office and is now continuing her research project at our Bimini, The Bahamas field site. We hope you enjoy reading Manon's perspective over the coming weeks! ~Kel
…….
I got the first stunning sight of Bimini Islands from the plane, and it was only the beginning…
After one month of data processing in Florida, it was time for me to go into the field, hoping to see some of our well-known dolphins. On Friday, I had time to unpack my suitcase, get a personalized island tour (thanks to Kel) and I was ready for my next two months here. On the schedule: data entry, data processing and (hopefully) boat trips and dolphins.
Saturday was my first morning and my first surprise! I was expecting to see some nice sea creatures during my time in Bimini, but not on my first day and even less ten meters away from the shore. Coming from open sea and heading North, I got to join a manta ray that morning. And then in the afternoon, it was a group of dolphins that I could see, jumping behind a boat in front of the beach!
Speaking of dolphins, I got my first boat tour on Sunday. Nice weather, nice sea, nice people, but … no dolphins! Well, I still have two months to see them.
Stay tuned,
Manon