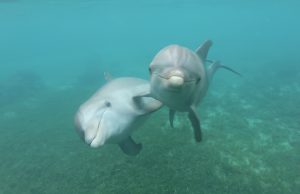 The really great underwater visibility was available again today. And, the dolphins were quite social this morning! Luckily, Champ, Lenca and Ronnie were playing together and Ritchie, Bill and Stan were hanging out together. Only Stan paid extra attention to my fins. I was also able to record some tactile contact between Callie and Tilly and Bailey and Tank were often accompanied by Poli and Elli during their swims. After the first early morning data collection session, Heather, Dee and I brainstormed about additional data collection and we also spent time discussing the film angles with John. He is doing a short video piece about our research here at RIMS and will get a few conversational interview clips from us.
Thank you to both the CSU and URI groups for helping collect surface data observations during their weeks with us this month. Dee, Heather and I collected some baseline surface activity data and also observed an encounter and swim session to review our tentative data sheets and confirm we are collecting the data we plan to use for our questions about spatial use of the enclosure by dolphins. Then, just after noon, I did a second underwater session so they could collect the same type of data the students gathered during their weeks here. We made a few modifications to the data sheets based on student comments and out experience collecting the data. Of course, this meant our lunch was quite late today … Thankfully, Marcos made sure we had a tasty feast.
We spend the afternoon reviewing collected data, chatting with John about tomorrow's game plan and confirming our meeting time with Teri for our creativity study and data collection. All in all, a very good day punctuated this morning by a full double, vibrant rainbow that extended from Bailey's Key to Anthony's Key!
Tomorrow will start with a brief interview BEFORE data collection in the morning!
Until then,
Cheers
Kathleen, Dee, John & Heather
P.S. Join DCP at our Bimini, The Bahamas, field site – where we have studied dolphins for over 18 years! With 5 nights' accommodation at a small, locally-owned and operated hotel, participants have access to DCP talks/presentations, 3 meals/day, 5 boat trips in search of wild dolphins and more! During dolphin trips, we aim to not only see dolphins from the boat – but also to swim with them!
Plus: by participating in a DCP-led program, you help ensure we get more opportunities to observe and collect data on these amazing animals! Email us at if you'd like to register! $350 deposit required to save your space.