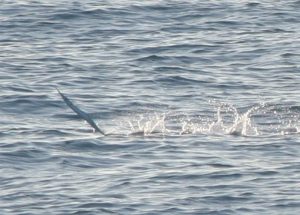 Yay for October dolphin trips! I don't get a chance to in search of dolphins very often post-September, but on Friday and Saturday, I was able to join a visiting film crew. Though I knew I would be unlikely to collect any video, acoustic or photographic data, I was still eager to search for the dolphins and share info with the visitors. On Friday, the seas made us work for every step on the boat and we only saw a few passing bottlenose dolphins. Still, the film crew was able to get some productive shots and we said goodnight eager for what tomorrow would bring…
Saturday began with a cruise along the shoreline and a break for an interview. Then, the serious searching began. We had to wait a bit, but around 1540, the large splashes in the distance could not be denied. Dolphins were jumping. And it was a lot of them. We got closer and saw the Atlantic spotted dolphins were scattered and feeding. We assessed, careful not to interrupt their meal, and then entered the water. Though I hate missing out on data, it was, dare I say….really fun to be in the water without a camera! It's so rare for me. There was a lot going on with the crew and their goals, but I was able to see Tina (#14) and her busy-body older calf, Juliette (#12), another older adult and several juveniles. During the second water entry, which included just Tina's calf and 2 juveniles, there was a large school of ocean tally (aka ocean triggerfish) mid-water column. The dolphins occasionally gave them a bit of attention, but mostly they just floated around. What an unusual site!
We slowly cruised home, and nearer to the island we saw more leaping dolphins. It appeared to be a mix of bottlenose and spotted dolphins; one adult spotted came for a quick bow ride before zipping off in pursuit of a fast fish. We continued on our way, finishing the day with an absolutely beautiful sunset (again).
Thanks so much to this visiting crew and to Bimini Adventures for once again supporting DCP and our efforts.
Until next time,
Kel
PS: Intrigued by our research off Bimini and the dolphins themselves? Come check it out for yourself! We are now recruiting for our 30 June – 5 July 2019 eco-tour. Spend 5 nights with us on little Bimini, learning about dolphins, searching for dolphins, swimming with dolphins…and, supporting our research! Click here to learn more and email us now at info[at]dcpmail[dot]org to reserve your spot!