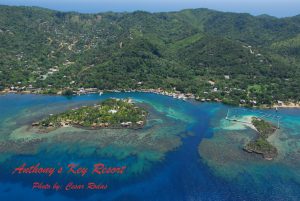 Saturday was travel day for the DCP RIMS/AKR eco-tour this week. John and I (and the rest of our group) took various car routes to get to the airports from which we departed. Three different airlines (and train rides between terminals in Atlanta – ok, it's a stretch but it gets another mode in there) and several flights brought us to our destination – ROATAN! The boats will be used daily between islands to observe the dolphins and to snorkel or dive! Bill and Ron had a week head start on the rest of us as they came down a week early for diving. Dave, Chris, Nat, Jill, Don, Madison, John and I all arrived, unpacked and settled in. Of course, a few of us took a taxi boat over to Bailey's to see all the dolphins – the gang was all there! The underwater visibility looked good and I hope it holds for Sunday morning!
We look forward to a week of data collection, snorkeling and scuba diving!
Stay tuned for more!
Cheers
Kathleen and DCP's October 2018 Eco-tour gang
P.S. my apologies for not posting this report last night … fatigue won last night's battle!