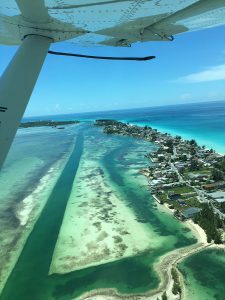 Wednesday morning started bright (dark?) and early at 2 am, for Nicole at least. In order to get to Bimini early in the day, her first flight was at 5:00! Three flights later, including a seaplane flight with an incredible view of a submarine (!), Nicole was on-island and ready to go out on the boat with Bimini Adventures' current guests. This group is lovely and very sociable—they had no idea Nicole would be joining them, but they welcomed her onto the boat like an old friend.
The trip started with a snorkel stop at Bimini Road. The wind and water were quite calm, and it was quiet. The guests commented on how peaceful the reef there was, and how beautiful and colorful the corals were. After enjoying the tranquility for a little while, we began our search for dolphins. Less than ten minutes later the group leader spotted something far away. As we changed direction and approached it, we realized it was a spotted dolphin—#112, our recently-named juvenile female. Stay tuned next week to learn her name! She was very interested in bow riding, and the guests enjoyed watching her play. From the vantage point on the boat we noticed that #112 had a large remora on her side. Despite any discomfort from the fish, #112 kept riding the bow, spy-hopping, and playing with sargassum.
As we followed her, we scanned the water around us for more dolphins. It's rather unusual for any spotted dolphins, particularly juveniles, to be alone for a long time. Sure enough, within about 20 minutes we found nine more spotted dolphins! It was a group of unfamiliar older adults, and #112 didn't seem too interested in interacting with them, but she did stick around and continued swimming in the same direction as the group. At one point, Swoosh (#36) swam through this group with a calf and a juvenile in tow, but none of them stayed for very long. After observing #112 and the nine adults from the boat for some time, we decided to give an encounter a try. Unfortunately, it became very plain that this group had no interest in slowing down enough for the humans to keep up, so we piled back on the boat and continued our surface observations. #112 was really giving us a good show—she leapt hiiiigh into the air a few times (probably to dislodge the remora) and her leaps were beautiful! After a little more time with this group, we decided to move on to try to find dolphins who might be swimming a bit slower.
After an hour and a half of searching, we hadn't seen any dolphins, but we did see a large loggerhead sea turtle! We were on our way back to the island and had started to think we might not be lucky enough to find more dolphins when Captain Audley kept squinting into the sun. He was sure he could see something in that direction, but kept talking himself out of it, saying it was just the waves. Finally, he gave into his gut feeling—and we were well-rewarded! Sure enough, it was a group of four spotted dolphins, including Stefran (#82) and her calf, plus two juveniles who looked familiar (but Nicole couldn't ID them from the boat.) From the surface we could see that they were playing and chasing fish. They all road the bow wake for a little while, but it was getting late, so we decided to try underwater observations quickly. Again, they were moving too fast for our human swimmers, so we picked everyone up and continued on our way.
Our observations didn't end after we stepped off the boat, though. Some fishermen were cleaning up their catches at the dock and had attracted a group of sharks—at least 5 bull sharks and 2 nurse sharks! We also saw some rays, lots of fish, and one fisherman said he saw a lemon shark.
With some wonderful observations of dolphins, turtles, coral reefs, and sharks, the group was ready for dinner and some live music at the Big Game restaurant. Everyone is excited to see what we will find tomorrow!
Until then,
Nicole & Kel