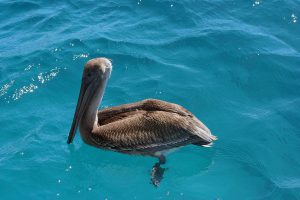 On Wednesday, I joined Bimini Adventures' guests on "the small boat" and headed in search of dolphins. The seas were much rougher than Monday and Tuesday and while we searched for dolphins, we could see squalls building to the east. Sure enough, we never did find any dolphins, but we did find some beautiful rain storms. We were able to stay clear of the largest of the storms and while we tried to avoid the smaller, later squall, we had to accept some rain drops. Thankfully, it wasn't that bad and, in fact, it was quite beautiful cruising through the steady rain as the sea surface calmed and left only the impressive swell.
Thursday was another great day with Captain Al and his guests. We could feel the stiff breeze at the marina, so we knew we were in for a bumpy ride; still, we were optimistic that with the sun shining, we would have a great day. Luckily, we did not have to go far! A large group of Atlantic spotted dolphins was busy surfing the murky water. The first time we spied them, it didn't last long – the surfed right out of view. But, the next time we were more careful and they were more accommodating. One guest hopped in, but it was soon clear that the water was anything but – and the dolphins were not interested in him. So, we resumed our search and enjoyed the views…
We then found ourselves with eight or so spotteds (it was very hard to get and keep a group count in these conditions) and this time they didn't seem in such a hurry to follow the waves. We hopped in with modest expectations and we were not disappointed! Even though the visibility was poor, several of the dolphins stayed quite close, zipping around and even playing with sargassum. I think #113 was there, but I'll need to confirm with the video since she's not an individual I have personally seen too many times. There was also a mother-calf pair; the mother did not come close enough for me to make an ID, but the little was clearly little! I hope I got the calf's marking on video as it already has a distinct scar on its back. I'll just have to be patient and wait to see it, and its mom, again!
After our somewhat unexpected, but awesome, swim, we cruised around a bit more in hopes of getting another opportunity. Though we did not have another swim, the guests did see some amazing leaps in the distance as we came closer to shore. Back at the dock, we said our good nights and began to look forward to tomorrow.
Until then,
Kel