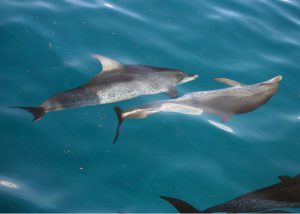 It was another stormy morning early Thursday in Bimini, but luckily the skies cleared enough for another lovely day on the boat. Nat and I started our morning once again with some work and a large pot of coffee before beginning our prep for the boat.
Our day started a little earlier than the previous few days and we were able to stop and snorkel "The Bimini Road," a famous snorkel spot off of North Bimini. It was the perfect time for a much needed swim break as well as the first time for us to see the popular snorkel spot. We dove in and immediately saw a barracuda under us and later saw a gorgeous angelfish swim past us. As Nat took a minute to free dive with a school of fish, I came up for air to clear my mask a little. After a minute or two, I went to go find Nat under water and was surprised to see a wide-mouthed remora swimming right at me. It was my first time seeing one under water and was almost a little nervous it was going to attach to me. I kicked back immediately and it switched directions- heading straight for Nat! Thankfully Nat surfaced and it swam away.
After a 30-minute snorkel trip, our hunt for the dolphins was on- and luckily short! First, we got some quick glimpses of passing bottlenose dolphins – Nat even recognized one from our efforts sorting bottlenose dorsal fin photographs by individual and Kel noted that it was probably Tt057. Soon, a total of 23 spotted dolphins came right to the bow of the boat. One of these was our dear boy, Split Jaw (#22)! We have seen Split Jaw the past six days in which we sighted spotted dolphins! It is always a pleasure to see him doing so well. We also saw Niecey (#48), with her calf, Vee (#101, pictured here), Sulfur (#102),Inka (#93) and un-named #107. I was able to hop in the water with them for a split second, but they were on the move, and fast moving dolphins are a bit difficult to swim with. After they rode the bow for over 30 minutes, it was time to depart from this pod and try to find other more playful dolphins. We were able to spot some more dolphins, but they seemed to be on a mission as well, and we were not able to see them underwater. After the boat trip, we said goodbye to the guests and went back to our cottage for leftovers. Then it was another must needed lights out!
Cheers!
-Frankie & Nat