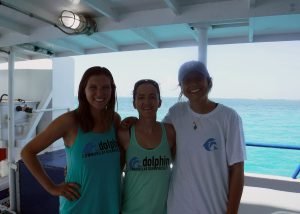 After getting a feel for what the educational talks were like on Tuesday, I was extremely excited for our talk Wednesday morning on the Shedd Aquarium boat. As a Chicago native, I was raised going to the Shedd- I even brought my favorite Shedd hat to Bimini! Nat and I woke up early to make some breakfast and coffee before meeting up with Kelly and jumping on the skiff to head to Coral Reef 2 (CRII).
CRII was an absolutely gorgeous boat and all the kids were super excited to have us on board. After Kelly's talk, the high school students turned to Nat and I and asked us about how we got the internship and if we have any tips on pursuing marine biology careers. We were able to tell them how lucky we felt to be able to intern with DCP but also to just keep searching for opportunities and to not give up. It was so fun to be around so many kids who were all just as passionate about the ocean as we are and we all left the boat with smiles on our face.
Nat and I were then able to get another two hours of work in before prepping to get back on Renegade for the afternoon. We were both very excited for this trip because Kelly was able to join us as well.
We got on the boat and began heading north, however sadly after a few hours of searching and numerous swim breaks under the hot sun, we couldn't find any dolphins. While it was a quiet day dolphin-wise, Nat and I were still able to ask Kelly a lot of questions about possible future career pursuits or other research interests. Luckily we have another day with Kelly on board and are looking forward to what Thursday brings us!
Cheers,
Nat & Frankie