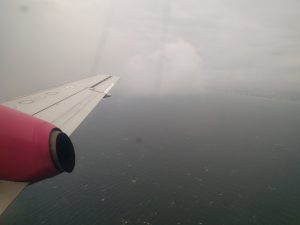 Things were so busy – and awesome – at the end of the University of New Brunswick Saint John course last month, that we (okay, me!) never managed to get their final blog posts up. It was an absolutely fantastic course. The final days included a mangrove snorkel, Caribbean reef sharks, southern stingray rays and more dolphins! Great group dinners, an engaging conversation on eco-tourism and the final night out celebrating with Nishka – it was wonderful. We can't wait to welcome Dr. Turnbull and a new UNBSJ crew back to Bimini next year!
Flash forward to yesterday (Tuesday), I was thrilled to welcome DCP's first 2018 Short Field Experience Intern to Bimini. J.P. first came to Bimini during Sacred Heart University's (SHU) 2014 field course. He'll be taking over the DCP blog during his time here, so enjoy!
-Kel
An early travel day from LGA (with a short stop in Ft. Lauderdale) has brought me back to the land and sea of Bimini. Greeted by some familiar and new faces I am happy to arrive back at Alice Town. After being given a refresher tour, memories of my last trip come flooding back. After a little time to settle in and grabbing a bite at CJ's, Kel and I get to work. As I look over the logs I start to decipher what all of the short hand writing means. Kel helps me to understand what I am unsure of and read some of the questionable notes. While documenting each log entry I get excited as I know data for sighting is coming up soon and it wakes the familiar feeling of when I was last on the boat searching the seas for the bow riders. After some time I start to gain a rhythm for the data entry. Time seems vanish as we approach the end of the work day. I will have to wait until tomorrow to see what is found on those remaining trips of '17. The work day is over and Kel and I part ways for a little as I catch a cat nap to make up for lost sleep. After waking I head to Kel's for dinner meeting another familiar face, our fearless Captain Al. Some pasta with red sauce, garlic bread and brownies for desert leave my hunger satisfied. Some grown up talk while watching talking dinosaurs with the kids was just the right way to end the day. I bike back with leftovers in hand thinking it is good to be back.
Until tomorrow!
J.P.
~Interested in learning about DCP's work and assisting with data processing and collection? Don't have the whole summer to commit to an internship? How about coming to Bimini for 12 nights this summer? We are still searching for the right two females to fill our remaining Short Field Experience internships. Session 1 begins on 25 June. Session 2 begins on 13 July.