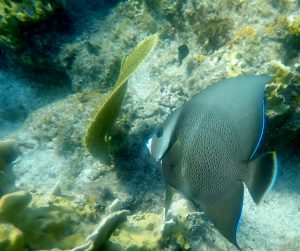 Wednesday began with breakfast and our blog writing. During the blog, a small bird, called "chip-chip" locally, flew right into the window behind us! It was a bit sad to see it on the porch and while we were watching it, two more flew into the window; one individual bird tried twice! Dr. Turnbull went outside to block the window and startled one of the birds back to life (ok, maybe he poked it back to life). Class time focused on lectures on coral reefs and sharks. Who knew that Dr. Turnbull thought stingrays were so cute?
We used our free time to do some more shopping, racing back in time for lunch, only to discover that we weren't the latest ones (cough, cough, Dr. T!). Today's boat trip departed at 1430 and focused on snorkeling local reefs: one artificial and one natural. Our first stop was the "Sapona." On the way, we saw leaping eagle rays and at the Sapona, we saw some folks fishing. Compared to yesterday, the water was glass. You could see right to the bottom. The Sapona was cool and has a "colorful" history. The current was stronger than we expected, so you definitely had to pay attention as you swam around the wrecked boat. Ryan tried to collect some shells, and was surprised by a large hermit crab in residency. Christine watched a small stingray (male?) seeming to pester the larger (female?) rays. A lot of the rays had scratches on them. The most courageous of us swam inside the boat, while others stayed on the outside. A tourist boat soon joined and they were entertaining to listen to. We were surprised at how loud it was underwater, particularly the snapping shrimp. At one point, some seaweed drifted through and the smaller fish went after it in a feeding frenzy. There were lots of large French angel fish, some of which were zooming around a pipe. (Thanks for the photo, Melina!) There were two porcupine fish as well. It felt like we were in an oversized aquarium – "is this real?!"
Next up, was Middle Turtle Rock. When we first got in we saw a barracuda and a sharp nose shark. We saw a small green turtle and Emma got to see a parrotfish poop sand! Over the course of the snorkel, we saw a chain moray eel, lots of squirrelfish – one of which kept trying to get into a space with other fish, but having a hard time finding a space – eagle rays, a southern stingray, a biiiiig filefish, triggerfish, four-eye butterflyfish, rainbow parrotfish. There was so much diversity here and everything was very vibrant. We wonder if this is a nursery area, given the number of juveniles we saw. There was a lot of different topography – crevices with cooler water rushing through. It was amazing to be that close to coral, giving those of us who do not free dive a really nice chance to observe things. The flipside is that we had to actively be aware of not damaging the coral.
On our ride back into the harbor, we saw more eagle rays and even a sharptail eel – a very rare sight from the boat. We got buzzed by a seaplane and waved to Kel and her kids who were waiting on shore. We got a break before dinner for showers, relaxing and sunset-watching. Natalia votes that today was the best day so far! After dinner we kept working on our assignments and are eager for tomorrow!
Until then,
UNBSJ 2018