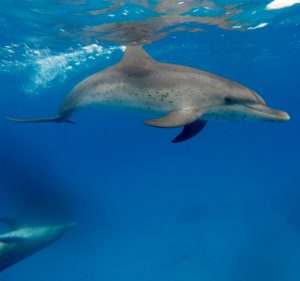 The laughing gulls woke Christine Monday morning, but she wasn't laughing! After breakfast, some of us went shopping and others swimming – and got to take a shower in the torrential downpour afterwards! We dried off and headed to class.
The afternoon was the most exciting part: just like Sunday, we didn't have to wait long at all! Some of the same dolphins were once again just offshore. Today, they didn't seem as interested in the boat, as they traveled south. We are already trying to identify individual dolphins! Because these dolphins were on the move and not interested in slowing down for us, we resumed our search, taking a break to snorkel "The Bimini Road" (aka "Atlantis.") Though we did not see any aliens or Atlantians, we did see a pufferfish, a trumpetfish, squirrelfish, a stoplight parrotfish, lots of blue tangs, a triggerfish (hovering at the edges), damselfish, butterflyfish, lots of sergeant majors and of course the rocks. We could tell why people are drawn to thinking it has design and therefore human-made. Dr. Turnbull noticed a big difference in fish and coral abundance since his last visit several years ago – a lot more sediment in the area, fewer and less vibrant coral, fewer fish. Is this all because of the cruise ship development and use? Hurricane Irma (Sept 2017)? Both? We wonder if ReefCheck has any long term data on this site….
After our snorkel experience, we continued our search for dolphins, getting farther from the island than we had before. On the way we saw the old submarine that had run aground (stay tuned for details). After a long search, we saw a pair of spotted dolphins. Only one stayed (was it Lil' Jess #35?) and she was not interested in the boat. We watched her for as long as we could and when she swam away, we kept searching – and quickly saw a large loggerhead turtle at the surface! "He" was very big, with a brown-ish shell, and taking a few breaths at the surface before diving down. After snack, we turned toward home, searching along the way. We got a radio call from another boat operator, letting us know that they saw dolphins in the area we were about to pass through. Initially there were seven Atlantic spotted dolphins. We couldn't observe them from the boat for very long, because it was getting so late, so some of us quickly geared up and got ready to swim!
Underwater, only two of the dolphins stuck around, but it was amazing! It was an adult and a juvenile; both appeared to be female, though it was difficult to be sure for the juvenile. They were whistling and one was blowing bubbles as she whistled. The repetitive whistle went on for a long time, as she swam in calm circles around us. We were intrigued as they rolled, giving us nice views of their bellies. After a nice observation, they headed south and we headed back to the boat. (Update: In class, we ID'd both of these dolphins: it was Cerra (#38) – the big whistler, and Sulfur (#102). In this pic, you can see Sulfur, with Cerra sneaking in the background.)
Back on the boat, we got to see many more dolphins. Since we did not have time to stop, each subgroup came for a quick bowride before pulling away; there were a total of 17 more dolphins. Nicole, who was watching from the bow, was able to ID Tina (#14), Sulfur (#102), Niecey (#48), Leslie (#80), several calves, including a very little one, a few juveniles and possibly #111 and Romeo (#10),. What a great way to say goodnight!
We got to have dinner outside at the marina, which was nice. Then, it was time for assignments, animal crackers and bed.
What will tomorrow bring?
UNBSJ 2018