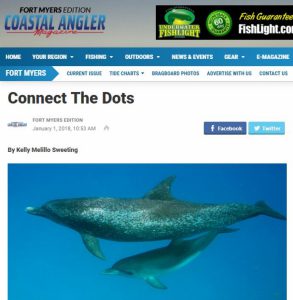 Check out Coastal Angler Magazine Fort Myers Edition for a short artile by Kel! DCP hopes that the Coastal Angler readers enjoy this introduction into DCP's work, particularly photo-ID and all the questions recognizing individuals allows us to ask.
https://coastalanglermag.com/connect-the-dots/
Want to join us in Bimini yourself? We are currently accepting sign-ups for May 2018 and August 2018 eco-tours – click here to learn more.
Can't travel to Bimini? Pre-order your snazzy shirt today and wear it knowing your purchase supports our dolphin research efforts!