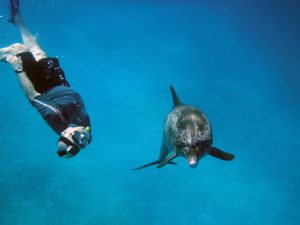 Woo-who! We are excited to offer two – that's right two – opportunities to join us in Bimini, The Bahamas. Here, we study wild Atlantic spotted and bottlenose dolphins. By joining a DCP Bimini eco-tour, you not only get an awesome, bucket-list worthy vacation, but you ensure DCP gets much needed boat time to collect our data. You'll learn about the dolphins and our research, even assisting if you want! Packages are all-inclusive (accommodations, food, boat trips, tax). We work with the most experienced Bahamian operator on the island. And, we can't wait for you to join us.
Click here for all the details, including:
Session 1: Check-in Saturday 26 May, Check-out Thursday 31 May 2018
Session 2: Check-in Sunday 26 August, Check-out Friday 31 August 2018
$1875 per person (ask about our $50 US check discount!)
Includes: 5 nights' accommodation (double occupancy; single available for fee), 5 boat trips (weather dependent), All meals (private cook!), Boat snacks, Drinking water, Rental snorkel gear, DCP talks, Bahamian tax (VAT)
Note: The package begins with lunch on arrival day, followed by the first boat trip, generally departing at 2 or 3 p.m. The package ends after breakfast on departure day.
Not included: Transportation to/from Bimini, Transportation between airport/arrival port and hotel, Gratuity