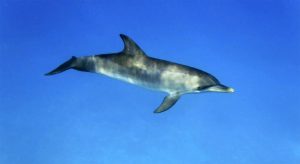 Saturday morning came and went in a similar fashion to most work day for DCP interns. We made progress on our usual tasks and also spent some time reviewing the underwater footage that Patrick took yesterday. This allowed us to identify more of the dolphins that were seen while simultaneously practicing our ID skills with the new spots that the dolphins may have developed over the past year, since they were last photographed. After lunch (leftover Bimini pizza!) Patrick and Tori got back to work while Kaiya prepped for her afternoon on the boat.
Tori and Patrick:
Our afternoon of bottlenose photo identification and video logging progressed smoothly. Partway through, we each made sure to take a break to get some fresh, salty air. Now that we are well past the halfway point of our time in Bimini, we want to take every moment that we can to enjoy this spectacular island!
Kaiya:
I headed down to the boat for the 2 pm departure, excited for the afternoon ahead. Even after only a few days on land I was more than ready to get back out on the water! Today's trip began with a snorkel stop at Bimini Road where I was able to work on my free diving. It is always easier to practice holding your breath when you have tropical fish and beautiful sea fans to distract you! We then headed into dolphin territory. Neither the dolphins or the choppy seas made it easy on us. A few times we thought that we saw a dorsal fin or a splash, but it was simply the waves playing tricks on us. It was not until 17:55 that Captain Al saw dolphins for real! It was two spotted mother calf pairs surfing the large waves as they slowly traveled. Although neither of the adults got close enough to the boat to identify, everybody still enjoyed watching the four from the boat. One of the calves breached as it tried to remove a very large remora attached to its side. It showed us its pink belly over and over as it shot into the air and flopped down on the water's surface. We were able to try an underwater encounter, but it did not last very long. The calves circled us a few times before swimming off to join the adults, who were far enough away to avoid being seen. Although the afternoon was not full of dolphins, it was still a beautiful day out on the water!
As a team, we are excited to get back out on the water all together next week!
Until then,
The Trio