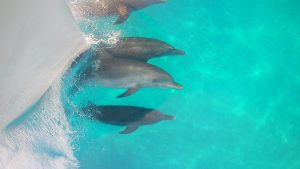 Nothing beats waking up in the Bahamas and knowing that you have an awesome day ahead of you, especially if you are a DCP intern! Our excitement only increased as we began our Thursday morning office work, thanks to all of the progress we made yesterday on the video log entry and bottlenose dolphin identification. After another few hours diligently working on these tasks, it was time to get ready for our 2pm boat departure. Today, our first stop was at Bimini Road for almost an hour of fabulous snorkeling, enjoyed by guests and interns alike. In and among the rocks we were able to see multiple angelfish, trumpetfish, parrotfish, squirrelfish, purple sea fans, tube worms, and even male sergeant majors valiantly defending their nests of eggs by changing their colors from yellow, silver, and black to dark blue!
The end of the snorkel meant the beginning of our search for dolphins! Captain Audley pointed the boat north and off we went. After two days with only a few sightings we were hoping for a more eventful day. All passengers were in good spirits as we worked together to scan the horizon, hoping to see those elusive dorsal fins. As we searched, we were able to enjoy the calm, turquoise, crystal clear water that this area is known for. After a 5:30pm swim break that cooled us down and snacks that helped us regain our motivation, we finally saw some dorsal fins peak out of the water a ways ahead. Unfortunately, they disappeared back into the deep, not to be seen again. However, only a few minutes later, we were back in action as more dorsals were seen in the distance. In no time we had four Atlantic spotted dolphins playfully riding our bow. After a few minutes of observation from the boat, the swimmers scrambled to get ready to try an underwater encounter, including Tori with the video camera. With Kaiya keeping track of the dolphins from the bow, Patrick recording data on the clipboard, Tori was able to get some awesome video data of the playful encounter. The dolphins hung around for a few minutes but soon continued their travels northwest, much too fast for the swimmers to keep up.
Back on the boat and continuing our path towards North Bimini, it was only a few more minutes before another group of four Atlantic spotteds came into view. This time we were happy to see the familiar right pectoral fin of Inka (#93) among the group! She was joined by two other juveniles and a sub-adult, all of whom enjoyed riding the bow just as much as the previous group. Though an encounter was attempted, these dolphins were too interested in traveling to hang around for very long. With daylight winding down, we again resumed our travel home. We followed the calm waters all the way back to the dock, watching a rainbow and briefly getting showered on along the way. Everybody was in good mood after a successful afternoon of dolphin observation. It was a great send off for this week's Sea Crest guests. We hope that they had as much fun this week as we did!
Until next week,
The Trio (Kaiya, Tori, and Patrick)