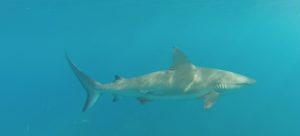 As you may recall, this year marks DCP's first time running our new program, the Volunteer Field Experience featuring 12 days at our Bimini, The Bahamas field site. Mathew and Garion were our first-ever participants and we hope you enjoy hearing about their final thoughts on their experience:
Mathew:
During the final day of living on Bimini and assisting DCP, I spent the day baking a cake as a way of showing my appreciation towards Kelly and Al, packing my bags and finalizing my work. Before you wonder any further, the cake was Devil's Food cake and had vanilla frosting with Oreo crumbs. I also added a homemade icing that had a smiley face and "DCP" written on it. All I could think about as my final day continued was what I achieved while working here and the people I had met.
As I put the cake batter into the oven and worked on my last two folders of dolphin photo-ID, I thought about how Nicole presented a lecture to Garion and me about how we are supposed to ID dolphins and what features we should be looking for. When I was sorting through the GoPro footage I sent over to Nicole to be analyzed, the memories I had with the students I met came flooding in: how we all swam with Caribbean reef sharks and swam right into groups of dolphins to get still photos. Also the time we went through rough seas, the boat rising above the waves, and pretty much everyone got wet. As I was finishing decorating the cake, I thought of how the students had already left the island and would be going home to tell their loved ones about this shared experience.
Finally, as I was packing my bags I thought back on how I had faced my fears and opened up to trying new things. This included cage diving with bull sharks, trying new foods, and living with people I had never met before. I felt so included during my amazing experience on Bimini; the locals are so hospitable. I even got to see the Bimini SharkLab, swim with wild sting rays and Caribbean reef sharks. Of course, above all, I got a chance to actually experience field research and wild animal studies while also capturing footage of them in their natural environment. I just want to thank DCP for letting me have this once in a lifetime experience. I will never forget it and it has certainly helped me understand how I can better myself as an animal behaviorist and field researcher.
This is Mathew O'Donnell, signing off.
Garion:
As I sit back to reflect on my experience over the past twelve days, it can almost be overwhelming to process. Though my time here was short I utilized it to the fullest of my abilities and maximized the potential of the experience. What I found is that DCP's dual purpose of research and education are just different sides of the same coin; both serve to help us as a species to understand and protect not only dolphins, but the world we live in. Mathew and I worked hard every day here at the DCP Bimini field site, and we also immersed ourselves in the culture of the island and grew to deeply care about protecting its local population, eco-tourism, wildlife, and environment. As a volunteer with DCP, my greatest overall impression was that this is in fact an environment and culture worth protecting; I can only hope that our work at DCP inspires you, our readers, to think the same.
Until we meet again,
Garion
Saturday marked the VFEPs' final hours on the small island of Bimini. Mathew's flight departed early in the morning so we bade him farewell at dinner on Friday night instead. Garion, on the other hand, was able to walk down the island and explore a few more nooks and crannies. He finally tasted red conch chowder—it was a religious experience! He departed on the evening Fast Ferry and left Kel and Nicole behind to prepare for our incoming summer interns. Tori arrives on Sunday and Kaiya and Patrick on Monday! Don't forget to check back to read their posts as they begin the field portion of the summer internship!
Until next time,
Nicole & Kel