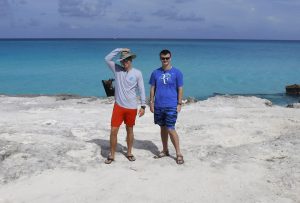 On Monday, DCP welcomed its first-ever Volunteer Field Experience participants, Garion and Mathew! We are very excited to offer this opportunity this year and are eager to make the most of the volunteers' 12 days on Bimini. For their first blog post, Garion and Mathew wrote about their travels to Bimini. Tune in over the next 2 weeks to hear about the rest of their experiences! 
Garion:
I woke up at 3 AM on Monday to begin my journey from my home in Stuart, Florida to Bimini, The Bahamas. I got a ride to the train station and then rode from West Palm Beach down to Miami International Airport and after successfully navigating the airport a friendly Lyft driver named Luigino drove me to the port of Miami to catch a ferry. Security was easy and I had no problems boarding the ferry. I got lucky and was spontaneously offered a place in business class with an entire row of seating to myself, six whole seats for me to take a nap on! The ride was smooth and I arrived in Bimini only an hour and a half after leaving Miami. I was then shuttled to the Hilton Resort and had to find my bearings on the island and get to the DCP apartment. I caught another shuttle that took me through a tour of the entire north island of Bimini, and got off right at the southern cemetery. After finding the apartment and getting settled in, Nicole, DCP's Master's student, showed me around the island by bike. I then explored, napped, swam, and went for a jog in the middle of the day (never do that) while waiting for our other volunteer Mathew to arrive. Now, freshly showered, I am with him and waiting to go upstairs to have chicken burritos and relax! The beauty of this place is beyond words, and the people are friendlier than almost any I've visited. I am not sure how I am going to be able to leave. I can't wait to wake up in the morning and get start with the real work/play! 
Mathew:
At the Fort Lauderdale International Airport, I was dropped off by my mother and I boarded a plane bound for Bimini. The plane itself was very cozy and quaint, with just a short twenty minute flight time (if that). After getting through customs, I got on a shuttle which took me to the water taxi that gave me a very short lift over from South Bimini to North Bimini. After that I went over to the Sea Crest hotel, where I met some of the hotel staff and Captain Al who generously gave me a lift to my lodging. I got situated in my room, which I will be sharing with the other volunteer, Garion. Kel and Nicole gave us a brief lecture of our itinerary and schedules for what we will be doing during these next twelve days. I am very eager to be a part of this program and I will be sure to give it my best effort! 
Until tomorrow,
Garion, Mathew, Nicole & Kel