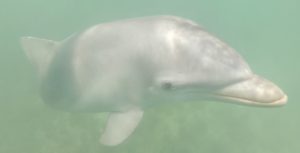 We started our day the usual way … with data collection and observations of the dolphins at Bailey's Key! There was LOTS of aerial activity and much social surface behavior (lots of white water and splashing and dolphin body bits at the surface). It was fun to see so much different behavior above the water surface. That is, today was day 5 of our observations but we had so much activity and it was great to have so many observers to be sure we recorded as much as possible of all the activity, including porpoising, leaping, breaching, tail slaps (side ways), and some very long horizontal leaps. Gracie did a side breach near the side of the dock. There was some pushing behavior at the surface – one dolphin to another … and Polly to Kathleen.
After data collection and breakfast, we logged data sheets and watched the video footage from the morning session. We watched the video to gain a sense of the underwater visibility and to compare vantage points – i.e., surface observations versus underwater observations. They each present different view points into dolphin behavior.
The bulk of our day was spent at Maya Key. It was a wild ride on the bus from AKR to the other side of town to get to Maya Key. We snorkeled first thing and were shocked and disappointed by the amount of trash in the water. There was also quite a lot of jellyfish in the water. After snorkeling, we went to the pool area for lunch and then explored the ruins, which are a replica of part of the Copan ruins (Temple 22). We climbed to the top of the ruins. Then we saw the various exotic animals that had been rescued or confiscated from illegal housing. They included a jaguar, ocelots, capuchins, black howler monkeys and peccaries, macaws, crocodiles, and spider monkeys, toucans, and a few other birds. There were also nurse sharks and stingrays. We took the air-conditioned bus back to AKR after our adventure to Maya Key!
We watched a few more videos and discussed perspective when collecting data. After our chat, we listened to a great sea turtle conservation presentation by Jennifer. It was interesting to hear about the local conservation efforts; it was also a little sobering and close to home when Jennifer spoke about the marine debris that is a threat to sea turtles. Specifically, she was talking about how leatherbacks feed mostly on jellies and that sometimes the jellies can be confused with plastic debris by leatherback turtles and that causes issues with their survival because they ingest the plastic. And, this just really hit home because of the debris we saw earlier today in the water around Maya Key. We were trying to avoid the jellies and kept confusing the jellies with the debris around us and so we empathized with the leatherbacks.
We wrapped up the day with a question/answer session with Kathleen and Shane about aspects of developing a career in the marine sciences. Tomorrow, we wrap the week up with our encounter/swim and more data collection.
Until then,
Cheers,
Kathleen, Shane & the funky bunch