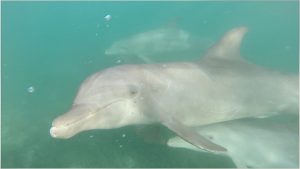 We had our first introduction to the dolphins after our boat taxi ride to Bailey's Cay. The ride was full of anticipation and culminated with Kelly's reaction, "oh! They're right there!" They were so close and within reach, not behind 6 inches of glass! There did not seem like there could be 23 dolphins in the enclosure … maybe 12, but then we got to see the different dorsal fins. They swam close to our positions and checked us out. It was definitely hard not to interact with them more.
We spent a few hours after data collection on photo-ID learning about their different scars and marks. We also discussed the different behaviors we saw on the first research dive of the day. After lunch, we returned to Bailey's Cay and met some of the trainers and dolphins close up. The morning session had us not really seeing all the details Kathleen pointed out about individual IDs but sitting with the trainers and actually meeting a few of the dolphins clarified the scars and marks and the tiny details. It was fun meeting the dolphins. "Carmella is really shy but eventually took the fish from me," said Micaela. Mrs. Beasley was more finicky with each fish. Gracie is a ham and thoroughly enjoyed the attention. Calli was stinking cute and had a distinctive bite because her mouth does not close all the way on the sides. We also got to watch the calves playing and they tussled with each other while their moms ate.
Our day wrapped up with a very informative fish ID talk. In this talk it was not so much individual ID for the fish but species ID. The talk was a great prep for tomorrow's first snorkel trip. We feel quite prepared to recognize all the species, maybe not the 500 on the reef but maybe a dozen or so! And, we learned about all the conservation and good work of the Roatan Marine Park. We will definitely be supporting their mission and getting our bracelets!
Until tomorrow!
Cheers
Kathleen & the funky bunch*!
* the funky bunch includes Micaela, Kelly, Lindsey, Riley, Katie, Chelsea
 PS: Time is running out to register for our 2017 field courses at our Bimini, The Bahamas field site! Click here for more info!