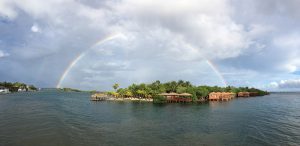 Rain greeted us just before sunrise … leading to a delayed research data collection session. I entered the water at about 7:40 this AM and had a good 30 min session observing the dolphins. The calves were receiving much attention from almost all of the dolphins. Of course, Mac, Lenca and Champ still thought my fins were the best toy available!
I was able to record Gracie and Alita on several occasions and we confirmed which calf went with each mom on viewing the video this afternoon. The dolphins were quite vocal and very social with one another. The underwater visibility was so-so but there was decent light and a visitation by the sun when I was in the water. The photo here shows a good view of Anthony's Key … though we're not sure which end the pot of gold my be under!
Several of the divers in our group did a shark dive this morning. They swam among more than a dozen Caribbean reef sharks and weathered choppy seas and swells and rain to meet these sharks! The second two dives saw underwater visibility decrease to almost nothing. Still, the shark dive provided much fodder for discussion during dinner!
Tomorrow is our last day for data collection and we'll deploy the SM2M for collection of dolphin vocal behavior over the next two months. Though we've had more rain than was expected, it's been a good week for underwater time and data collection!
Until tomorrow,
Cheers
Kathleen & the DCP 2016 Eco-tour team