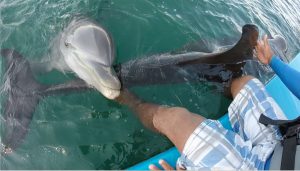 Rather than show you the gray, gloomy skies that were often dropping heaps of rain drops upon us today, I am sharing with you a photo of Elli and Callie. Elli is showing her scuffed up rostrum as she tries to photo bomb Callie. On Callie's peduncle you can see a few white parallel lines that are healing rake marks! (Thanks to Kenly for helping me photo these ID shots!)
We spent the day dodging rain drops and a bulk of time in the morning and afternoon reviewing video from Sunday and Monday to confirm IDs and begin doing the session sketches for each dolphin. Some of the younger ones are readily recognizable and others are more clean – showing very few rake marks or other scars. Thank you to Regina, Chris R., Dave and Chris K. who helped review video today!
Our divers had several good dives, though the visibility underwater was less than yesterday due to the rain storms overnight and throughout the day today. I'm personally hoping for no rain tonight so I can hop back in the water at 6:30 AM tomorrow for more data collection!
Cheers until tomorrow!
Kathleen & the DCP Oct 2016 eco-tour group!