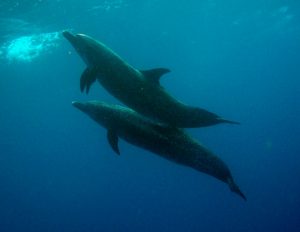 Thursday was the final boat trip for this week's Bimini Adventures group. It was also Nicole's last boat trip of the season so we were very optimistic that it was going to be a good one! The weather was on our side and the guests saw true, Bimini sunshine for the first time. After a quick stop at "The Bimini Road," it was a mere 10 minutes before we saw spotted dolphins! The group of over 15 dolphins included Romeo (#10, still associating with a calf, yay!), Freckles (#15), Stefran (#82, also with a calf), un-named #75, Paul (#99) and possibly Niecey (#48). After a short swim with the large group, we observed a slightly smaller subset, including Stefran and Paul, as well as two youngsters practicing their aerial skills. It was a great finale day to the week and we really enjoyed being welcomed by this great group!
Thursday night we indulged in a work-free dinner, but Friday morning it was (nearly) all business. Coordinating data files and tidying Nicole's apartment, we were both wishing Nicole was only going home for the weekend! But, she'll be super busy back at school, prepping her new Master's project!
Next week is the final dolphin week of 2016. Wonder what it will bring?!
Until then,
Kel & Nicole