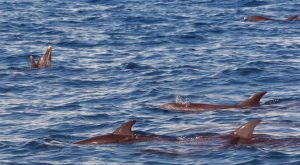 Sunday morning was less eventful for DCP than Saturday had been. Kel and Nicole spent the day in the office working on photo ID and other data processing. At 1500, Nicole set off on the boat with Captain Al and his two guests. This time, the pair wanted to stop at "Bimini Road", or the road to Atlantis, for some snorkeling. They loved the spot as much as they did "Three Sisters" on Saturday. After enjoying the sights for a bit, they climbed back on the boat. 
Given the amazing and unbeatable dolphin encounter we had the day before, Captain Al decided that we should head towards another, less-visited snorkeling spot instead of spending the entire day searching for dolphins. This unique spot is part of our regular searching trajectory anyway so we could be on the look out and stop if we found a group of dolphins, but if we did not find any at least we would see some other cool creatures. Just as we were making our way in that direction, one of the guests spotted dolphins at 10 o'clock! It turned out to be a group of at least 30 Atlantic spotted dolphins including Romeo (#10), Swoosh (#36), Cerra (#38), Leslie (#80), Stefran (#82), un-named #102 and lots of calves! We observed these dolphins for almost an hour from the boat, taking surface photos and watching them play and leap around. They were being quite social at the surface! We even saw some dolphins playing with orange leaves that had drifted into the open water from North Bimini. 
At this point, we decided to try some underwater observations. When we entered the water we saw a group of about 15 dolphins and Nicole noticed that Buster (#04), Inka (#93) and Noodle (#94) were also present, as well as at least one White Sand Ridge male. This encounter lasted about 10 minutes before the dolphins swam out of sight. Back on the boat we thought we were going to take a break and observe from the surface for a while. Captain Al surprised us by suggesting we jump right back in, even though the dolphins might swim away again. And it's a good thing we did! Back underwater we saw a group of about 15 once more. Shortly after we got in, most of these dolphins swam away. Inka (#93) and a young juvenile male stuck around, though, and swam with us for almost 30 minutes! This was another incredible encounter, but amazing for different reasons than the one on Saturday. This time, these two dolphins were as interested in us as we were in them. The young male seemed fascinated by making one of the guests spin in circles. And Inka seemed to find it interesting that Nicole would follow her to the seafloor when she dove down to rub her flukes in the sand. They both seemed to enjoy swimming circles around us as we free dove and then came back up for air. 
After this amazing experience, we climbed back on the boat only to find a giant rainbow arching over North Bimini. What could be more magical? The only downside, however, was that the rainbow meant rain, which began to fall shortly after we had started on our way home. We raced home to try to avoid the large squall but were still pelted by raindrops. We never stopped smiling, though, after the most incredible dolphin encounters over the past two days.  
DCP is sad to see this tourist pair go but we are extremely grateful that they let us share these experiences with them. And as always, we are thankful to Bimini Adventures for including us during their dolphin excursions. DCP researchers will have a break from boat trips for a while but we look forward to sharing them with all of you later in the summer! 
Until next time,
Nicole & Kel