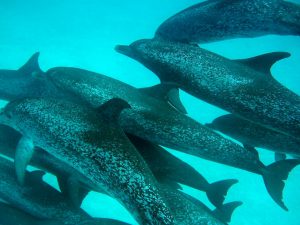 After spending the morning working on photo ID, Nicole set off with the tourist group at 1500 to search for dolphins. This time, Captain Audley was joining the group! Everyone was excited to have him back on Bimini. And for his first trip back, he must have had a premonition about where to look for dolphins because he found them less than an hour after setting out! At first we saw a group of four sub-adult and adult Atlantic spotted dolphins, possibly including Buster (#04). We observed this group from the boat for about 20 minutes when they suddenly seemed to slow down. Captain Al decided it might be a good time to attempt an underwater encounter so we geared up and slipped into the water.  
The dolphins did not seem very interested in the human swimmers so we all thought it would be a very brief encounter. Suddenly, this group of four turned back–and became 17! The group was primarily composed of sub-adult and adult dolphins, most of whom were male. Nicole was able to identify a few of the members of the group including Buster (#04 – in this busy image!), Split Jaw (#22), Prince William (#64), Tim (#69), Speedy (#78), several adult males that are from the White Sand Ridge spotted dolphin group, and possibly Milo (#96) and un-named #98. There was also one mother-calf pair that stuck near the larger group but they did not directly interact with the male dolphins for most of the time we observed them.  
Throughout the swim we saw some fascinating behaviors. The mother-calf pair swam down to the seafloor and the adult buried her flukes in the sand. The little calf then rubbed its sides and fins in the sand nearby. We also observed the large group of males play-fighting and engaging in socio-sexual activity. We were able to stay with this group of dolphins for an entire hour before they decided to swim away! Nicole collected so much video data that she even filled the memory card! We're excited to take a look at the data and find out what else we can learn about this group of spotted dolphins. 
Even though it was a bit earlier than usual, we decided to begin a slow drive back to the harbor and continue searching for dolphins. We did not come across another group but everyone was happy and satisfied with our amazing experience so it was ok! We are excited to see what tomorrow might bring! 
Until next time,
Nicole & Kel