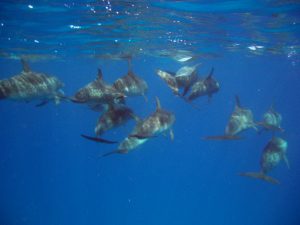 Sunday began bright and early. Breakfast was only 30 minutes earlier than usual, but it felt like a lifetime earlier. We headed to South Bimini – and from the beginning our journey, we were being swarmed by no-see-ums, referred to by us as "The Devil's Creatures." No-see-ums are actually sandflies and while there are some on North Bimini, South Bimini is notorious for them. We braved these vicious creatures for good reason: a tour of the South Bimini Biological Field Station, aka The SharkLab. Here, we got to wade into the water to see juvenile lemon and nurse sharks (and got to see little fish swimming about!) and feel the nurse shark. The lemon shark wasn't having any of it! We learned how to sex the individuals and more about their on-going research projects. Their methods are so much different from the non-invasive dolphin research we are participating in, that it really has us thinking about what methods are required to study which species. We also got a glimpse of their tight living and lab quarters – wow! Thank you SharkLab! 
As soon as we were back on North Bimini, we grabbed our snorkel gear from the boat and raced into "God's Nectar" – the ocean! It was our first day a back at the beach following our first day in the waves. We practiced snorkeling and picked up garbage. It was a fun beach break, before heading in for lunch. The boat again departed at 1500 and we began the trip in the raaaain! This freezing torrential downpour (not really) had us fearing for our lives (not really) and wondering if we would ever be dry again (not really). It was a heavy rain, but it passed by fairly quickly and soon we were searching for dolphins in the sunshine.  
And we didn't have to wait long – it was the earliest into the trip that we saw the dolphins. It was our first mixed species group! There were two spotteds and two bottlenose, and after this, we were almost never out of sight of dolphins for the whole day! All four of the dolphins were male and there were a lot of socio-sexual interactions. We could see a lot of their behaviors from the boat, hearing chuffs and seeing how obvious mating males are as the dolphins rolled on top of each other. We were able to observe this group of four under water; the two bottlenose were always together going between the individual spotteds (Prince William, #64, and Speedy, #78). They were being rough with each other, so we were mindful to keep our distance. Still, sometimes the dolphins turned their attention to us, investigating fins and stopping very close to us. Back on the boat, the four dolphins crossed paths with three other bottlenose, but the new individuals did not join the original group, which kept cruising north. As the day continued, more spotteds joined and we had several more opportunities to get into the water. During one of our last water entries, there were 17 or 18 (or more?) dolphins cruising by, including Tina (#14 – looking pregnant!), Split Jaw (#22), Niecey (#48), Prince William (#64), Leslie (#80), Paul (#99) and possibly Lil' Jess (#35). As we cruised back in, we saw a turtle – was it a spy turtle?! 
Back on land, we ate taco-burrito-things – it was sooooo good. After dinner, everyone headed to bed (though not necessarily to sleep!). 
"Wave" goodbye,
The Podfia (EKU 2016)