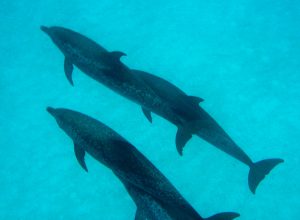 Saturday snuck right up on me and brought another dolphin trip with Bimini Adventures' student group. On Friday, the students and researchers were able to observe a feisty juvenile group, including Inka (#93). They got some great video and photographs, which will contribute to DCP's archive, in addition to their own work. Saturday's trip began smoothly and though the wait was longer than the past few days, it really wasn't long at all before we saw some big splashing in the distance. It turned out to be closely clustered group of dolphins engaged in mating or socio-sexual behavior. Our underwater observation was brief, but I was able to confirm that Prince William (#64), Speedy (#78) and Milo (#96) were in the group and, I suspect, Buster (#04) and un-named #75. I hope to confirm these IDs, and more individuals, when I review the video. In this photo, you can see four of the at least 20 dolphins in the group. 
Back on the boat, we continued in search of dolphins while the captains kept a watchful eye on the nasty weather to the west. Soon, a young Atlantic spotted dolphin was approaching the bow. We looked for its mother, and soon she made it easy to spot her: Romeo (#10) did two large leaps, out of the water and onto her side, not far from the boat. Was she calling her calf? With no other dolphins in sight, we followed this pair for some time before cruising closer to shore to avoid the storm. If this is Romeo's calf, I'm thrilled – to put it mildly. The calf would be 14-15 months old and Romeo's first, successful calf. I hope we see more of the pair throughout the summer! 
With the storm getting closer and closer, we had to continue back to the dock early. With some rain on our backs, I was still quite happy with the day's observations! 
Until next time,
Kel