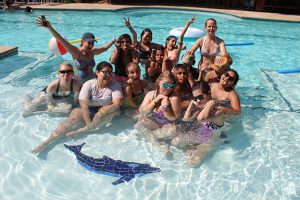 Today – Friday – was our last full day on Roatan, unfortunately!
We finished analyzing our soil samples – yeah! We did our last morning observation at 6:30 AM – maybe we can sleep in tomorrow? The dolphins were quite curious about Dr. D but she got a full 30-minute session recorded.
After breakfast, we went to the classroom to listen to Jennifer give a talk about turtles. There are 7 different species and only the females come on land, to lay eggs. These turtles cannot retract into their shells. The eggs are "parchment" eggs meaning they are soft and don't break when dropped into the nest. Their first year is called "the lost year" because no one really knows where they go or what they do. Their immediate ancestor was GIANT! They evolved from a land animal and have been on the planet in one form or another for ~150 million years. The turtle talk was Lupe and Anvy's highlight for the week!
We had 1-2 hours of productive time before lunch for homework, data entry, and data processing. Lunch was tasty (note the theme related to our meals, which were spectacularly delicious all week!!). Our afternoon lecture was held in the pool and it was a cool, rejuvenating discussion about conservation biology and Roatan. Of course, we all tried to stay as covered as possible by the water since the wind had died and the sun was HOT! Luckily, none of us got sunburned!
Our afternoon included a few last observations of the dolphins for our projects, snorkeling and a late day paddleboard race, which Dr. Karlin won, of course! Dr. Hill stayed on the paddleboard longer that the rest of us …
Tomorrow is our return trek to Texas … it has been a fantastic, unforgettable, wonderful, exciting, memorable, surreal, exhausting, educational, tropical, thrilling, anxiety-provoking, aquatic, salty (literally), early week! We're ready to do it again in a year!
Cheers!
Kathleen & StMU's "Rattlers in Roatan"
PS: Remember – you have until 28 March to order your DCP tee or rash guard! A meaningful portion of every shirt sold helps fund DCP's awesome research! Click here to get yours!