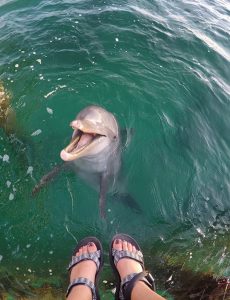 Early AM (6:30 AM) adventures brought 7 of us (Sara, Toni, Emily, Paloma, Tori, Brianna & Dr. Hill) along with Kathleen to see the dolphins at Bailey's Key for the first time. So many dolphins, so close, so curious. One dolphin kept spy-hopping and getting closer and closer to us at the dock and one of the dolphins gave a ventral up pectoral fin wave! The sun angle made it a bit difficult to see all the surface activity, especially when the dolphins were around Kathleen.
Late morning was our first snorkel session – a few of us had never been in the ocean before! Kathleen gave us a lesson and kept us calm. The area we snorkeled was shallow and yet had lots and lots of fish – big and small and sea stars and coral, and some type of squishy weird animal that might be a squid (we still need to ID it). We also got to hold the MVA and try it out during this snorkel session – it was lighter than we expected. The best thing we saw was the big sea star and a school of fish – blue tangs, and also an angel fish.
Early afternoon took us into the classroom, after a hearty lunch, of course! We had an information session and then went back to Bailey's Key to meet the dolphins and some of their human trainers. Several of us got kissed by a dolphin! We got to touch them and look at their specific scars and marks and watch some of their behaviors, even feeding a few fish to them. Their skin is smooth and felt like soft rubber. They make different sounds and are very imaginative.
Our evening wrapped up with a Fish ID talk with one of the AKR dive masters. We learned quite a lot about the different fish we might see on the reef. This info will be helpful tomorrow when we visit Maya Key and snorkel more and learn more about Roatan's cultural history!
Until tomorrow,
Kathleen & StMU's "Rattlers in Roatan"