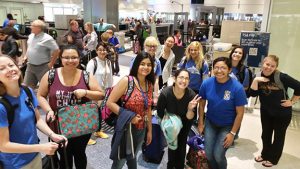 It was a long bumpy day but rather easy travel to get from Houston to Roatan. To all of our families … we are all in one piece!
It is beautiful, green, hot, humid, so many trees! The water is so blue and warm. We saw a purple sea star and a sea fan. Most of us decided not to unpack until after kayaking and examining the mangroves and shoreline of Anthony's Key.  The sunset was really beautiful.
We had our first meal and after a long day, it was like we were eating like queens (comiendo como reynas)! After dinner Dr. D overwhelmed us with an introduction to the MVA – it was easier to understand in person than in reading the paper but now the information in the paper is more clear to us.
We also had fun watching the agouti run around the hill side!
Some of us will join Dr. D in the morning at 6:30 (!) for data collection … and to meet the dolphins!
Until tomorrow,
Kathleen & StMU's "Rattlers in Roatan"