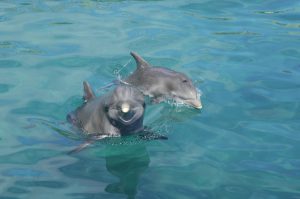 Thank you DE!! Allison and I were able to observe and record 19 innovate sessions with the dolphins and 4 with the sea lions! We witnessed a variety of behaviors from leaps, spirals, spits, vocalizations and more! We were able to record three moms with their calves "in tow" watching and (we think) learning! Two of the younger male dolphins presented new behaviors they'd been learning … practicing their new skill(s), it seemed!
Our tally in video data for the day was ~18 GB of video with a GoPro and 47 minutes of videotape on our second camera. Talk about lots to analyze!
We head back to DE today (leaving in about 45 minutes!) for another likely (hopefully) productive day. We'll share some of the research perspectives of the data collection from our team tonight. We'll have three observers (Dawn arrived – hurray!) collecting data today!
Cheers
Kathleen, Allison & Dawn