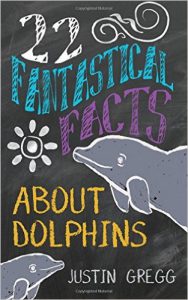 Dear friends,
I am super psyched to announce the publication of my latest book, Twenty Two Fantastical Facts about Dolphins! You can purchase a copy of the book for just $9.99 ($3.99 on Kindle) on Amazon.com at this link, or on bol.com, Amazon.de, Amazon.co.uk, and kobo.
It's full of fun dolphin science trivia, and is aimed at kids/grown-ups aged 12 and over. If you like the fun kind of dolphin science info featured on DCP's podcast, The Dolphin Pod, you will surely love this book too!
Happy reading!
-Justin
Here's the official press release:

New book of dolphin science trivia for young adults

Stuff you didn't know you didn't know about dolphins
Antigonish, Nova Scotia, November 30, 2015 – Did you know that dolphins don't drink water, don't chew their food, and don't sleep? Despite being one of the world's best loved and most studied animals, dolphins continue to surprise us with their impressive skills, strange behavior, and bizarre abilities. Dolphin researcher Justin Gregg highlights the most eyebrow-raising findings from the world of dolphin science in his latest book: Twenty-Two Fantastical Facts about Dolphins.
"This book is a lovingly curated collection of weird, unexpected, and remarkable bits of dolphin trivia," said Gregg, "the kind of factoids I regularly break out at parties to get people talking about the zany world of dolphin science." Showcasing some of the less well-known dolphin traits like their ability to call each other by name, sense magnetic fields, or their immunity to drowning, this book aims to impress even the most knowledgeable dolphin aficionado or trivia buff. Gregg has travelled the world studying dolphins in the wild, and supplements the scientific information in the book with his own (often humorous) take on dolphin behavior. Aimed at an audience ages 12 and over, 22 Fantastical Facts about Dolphins translates the latest scientific findings into fun and witty prose that will delight dolphin lovers everywhere.
Outside the Lines Press is a family run independent publisher based in Antigonish, Nova Scotia. "Throughout the publication of this book, I have relied on local editors and designers," said Gregg. "Nova Scotia is chalk full of amazing artists and writers, and I am proud to show that a small indie press based in a tiny rural town can create world-class books using only local talent."
22 Fantastical Facts about Dolphins retails for $9.99 US and can be purchased from Amazon, or other online retailers. For more information visit www.outsidethelinespress.com. For questions for Justin, please contact ">. Follow Justin on Twitter @justindgregg and Outside the Lines Press @OTLPress