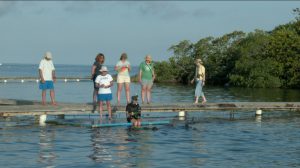 Even as our week begins to wind down, our mornings start early. This DCP team is a group of early risers! Perfect for catching the morning sun, best underwater visibility and social dolphins! You can see everyone preparing to take their positions around the enclosure for the best observer positions … and maybe also for the occasional game of seaweed toss with the younger dolphins!
This morning presented the best underwater clarity of the week, so far. Very little silt or precipitate in the water, clear for at least 6 m … and also social dolphins. Of course, Polly, Calli and Champ were my buddies for much of the session. They are enamored of my fins! (and sometimes of my legs, knees or shoulders!).
It was neat to watch the social interaction and the pairs in their swims. Maury was hanging with Paya (as seems to be typical). Beasley and Bailey were swimming together a few times, and also Bailey was with Alita for a few minutes. The 3 and 4 year old dolphins were all rolling all over each other and whistling with bubble streams from their blowholes! The late morning session had many of the dolphins more subdued. They were less social and more resting, except for the youngsters! They hardly ever seem to tire!
Tomorrow is our last morning of data collection … and our team will have their encounter/swim program. It should be fun and I will enjoy watching them get time in the water with the dolphins!
Until tomorrow
Cheers
Kathleen & the DCP RIMS 2015 team!