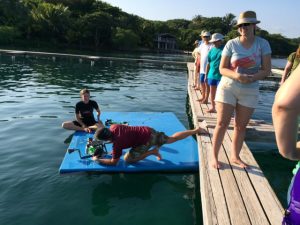 Today was a great day with roughly an hour of MVA2 video data collected! It was a welcome change from last year when Ronnie decided I was his play-toy! I was in the water by 6:40 AM and spent the first 30 minutes reacquainting myself with the dolphins, and vice versa. Calli, Elli, Lenca and Champ have grown noticeably. Each has a few rake marks that will allow more rapid confirmation of their IDs.
My 2015 RIMS research team was great with their observations and assistance. And, in the afternoon we spent a couple of hours listening to the trainers as they presented each dolphin to us – so we would be able to see their new scars and marks and confirm some of their behavioral details.
Once I exited the water this morning, John decided to grab a few shots of me on the dock … but the dock moved a bit! He decided to stretch the limits of his frame to keep the dock steady and still get the shot! (Thanks Lance for the photo!) Maybe John'll begin Yoga practice with me after our trip?! (Thanks Joy! The breathing exercises at the start of each Yoga class extended my free dives while observing the dolphins!!)
We will get out again tomorrow morning at 6:30 AM!
Cheers
Kathleen & DCP's 2015 RIMS Research team