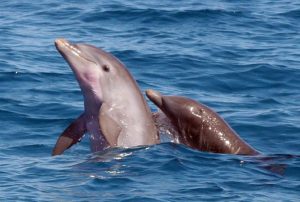 On Monday morning, we began our day with a beach cleanup at the southern tip of North Bimini. We filled numerous bags of garbage left on the beach, hopefully preventing going into the ocean. We were so happy to remove the trash, giving back in just a small way to the island that is so welcoming to us. We cooled off (it was hot on the beach, even in the morning!) before reviewing some tricky sequences of archived video data for social quality events (contacts of any kind between dolphins). 
Later in the afternoon, Ellyne & Kali joined another great boat trip with Bimini Adventures. We started the trip in the sunshine and saw three bottlenose dolphins within the first hour and a half.  They swam past and soon out of view. Then we had a refreshing swim break and continued our dolphin search.  
We saw a few splashes in the distance and turned the boat a few times to get closer. The splashes were actually two spotted dolphins! With a closer look we also saw one bottlenose dolphin with the pair! And soon another spotted dolphin presented itself. As we entered the water we saw one spotted juvenile female with two other spotted dolphins and a bottlenose dolphin diving to the sea floor and, of course, occasionally surfacing to breathe. It was hard to stay near them and we soon moved onto a pair of spotted dolphins bow riding. We got a short glimpse of one spotted dolphin underwater and then continued the search. 
A few minutes later we saw some splashes and got closer to investigate. Sure enough it was a pair of spotted dolphins. Were they the same pair as before? We attempted to get into the water with them but they disappeared very quickly. Despite this quick finale, it was a great day with three sightings and we were all thrilled to spend the day with the spotted and bottlenose dolphins! We headed back to shore as it was getting late. Local music filled the harbor as we pulled into the dock. Today was a holiday in The Bahamas; the first Monday is August is Emancipation Day, more commonly referred to as "August Monday." Locals gathered in town with food and music to celebrate. Today was also Kali's last day on the boat as she concludes her internship and departs Bimini tomorrow. We all said goodbye to her and headed home in the sunset. 
All that splashes,
Ellyne, Kali & Kel