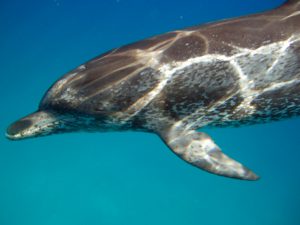 On Monday the sea was again tranquil and calm. We began the boat trip with a snorkel session at Shell Beach. The students saw a stingray and many colorful fish as well as a cuttlefish (or reef squid?). We even saw a turtle when we started to search for dolphins. Then in the distance we saw dorsal fins and approached them. We counted 17 spotted dolphins; in this group may have been un-named #75, Freckles (#15), Milo (#96) and un-named #102, but we'll need to review video and photos to be sure. Underwater we saw a mixed group of different ages and sexes together with a group size possibly up to 19 dolphins! Many of the dolphins were unfamiliar, suggesting they weren't from the long-time Bimini group, but possibly newer transplants. 
During our second sighting we saw nine spotted dolphins.  Underwater we could see Tina (#14) and Inka (#93) were engaging in a lot of pectoral fin contact. Meanwhile a dolphin was splashing at the surface leaping. Another dolphin had one eye closed; perhaps it was resting as it moved slowly in the water near the bow, despite all the action around it.  
We saw a big animal leaping and splashing in the distance as we cruised in and later, Captain Audley saw more dolphins in the distance; but, since the sun was setting it was time for us to continue our way back to shore. There was a scenic pink sunset that covered the sky on the way to the dock – a great way to end the day! 
All that splashes,
Ellyne, Kali & Kel