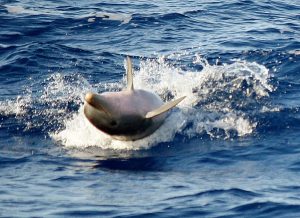 Saturday was our sixth day in a row out with Bimini Adventures. While Kel has stayed back on land the last few days, Ellyne & Kali been having a great week so far having seen many spotted dolphins and being able to identify individuals from DCP catalog. The students on the boat were also happy about all the encounters they'd had with the spotteds this past week but were getting curious about the bottlenose dolphins they know are around. So, the group couldn't help but hope to find some bottlenose dolphins. As we left the shore the skies looked beautiful but as we got further out we could see squalls in the distance. In our attempt to find dolphins we got a bit wet from a quick passing storm. Everyone tried to find cover from the rain. Luckily it was just a short shower. Shortly after the rain had passed we got our first sighting. 
A single dorsal fin dipped in and out of view behind the waves. We went to check the fin out and it was gone. Surprised by our "disappearing" fin we decided to keep looking. A few minutes later we saw a couple more dorsal fins poking out of the water. Based off the shape we were starting to think these might be bottlenose dolphins. Just like the last sighting, the fins disappeared as soon as we approached. We had a few more of these quick sightings until suddenly dorsal fins started appearing from all directions. It had taken us a while but we finally found the large group of bottlenose we were hoping for! Between twenty and twenty-five dolphins were counted near the boat. It was hard to keep track as they were moving so fast. Hopefully we will be able to get some IDs from the still photos we took from the boat and get a more confident group size. At first glance we found images for Tt#s 14 and 31 and it is possible Tt#s 5, 6, 36 and 39 were also there. We'll be looking more closely to confirm those IDs and find more matches! The bottlenose also stuck around long enough for us to get in and observe them for a while before we finally needed to head home. 
Later that night Kali & Ellyne joined the group for dinner. The students talked about the major differences they saw between the spotted dolphins and bottlenose. They pointed out how the bottlenose dolphins seemed larger than the spotteds and a bit shyer around humans. The dinner conversation was highly interesting. Eventually though we took a break to wish DCP intern Ellyne a Happy Birthday! We celebrated with ice cream and chocolate chip cookies. Everyone seemed to have a great day, especially the birthday girl! 
Until Tomorrow!
Kali, Ellyne & Kel