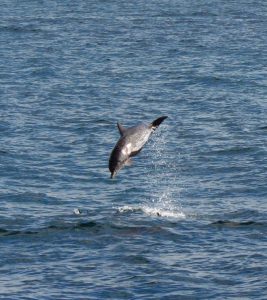 Monday morning began with thunder and heavy rain so we stayed inside to continue organizing DCP data and equipment in the office. The summer interns will be arriving in a few days and we want to be sure everything is ready for them!  
Our boat departure was the standard 1500 and this time Nicole represented DCP on her own. But, she were joined by Captain Audley who has returned to Bimini for the summer season! We are excited to be onboard with him once again! With a slight drizzle still falling on us, we started our search for dolphins. Only 45 minutes after heading out, we came across a group of at least 11 Atlantic spotted dolphins! This group included at least 3 calves who were seen zipping around the boat. At first, it seemed the group was only comprised of familiar, yet not cataloged, dolphins from the White Sand Ridge. Soon, though, we could see some familiar Bimini dolphins in the group. First, Swoosh (#36) swam in the bow wake. After following the group for about half an hour, we noticed that Romeo (#10) and Stefran (#82) (with her calf) had joined the original congregation of dolphins. At this point, we attempted some underwater observations but quickly realized that the dolphins were moving too quickly for us to keep up. We happily climbed back on the boat and observed them from there for about 10 more minutes before continuing our course. 
Fifteen minutes after leaving our first dolphins, we turned back toward Bimini and quickly came across a group of at least 15 Atlantic spotted dolphins (and possibly one bottlenose, though this sighting was not confirmed.) This group included individuals who are easily recognized from the boat: Split Jaw (#22), Prince William (#64), Lil' Jess (#35) and Noodle (#94), possibly with a calf. Over the course of 40 minutes we were able to make some spectacular observations from the boat. The dolphins were interacting a lot at the surface and a few of them showed off their amazing aerial skills. Even though the group did not seem to be slowing down, we thought we might try some underwater observations anyway. The first time we got in we were not able to see much. The second time, however, Bimini Adventures' guests got a great view of a few dolphins, including Split Jaw (#22) and Noodle (#94), who both hung back a bit from their dolphin friends to check out the humans. The encounter did not last long but it was enough for us to get a few ID shots and some good experiences. After climbing back aboard we decided to head for home. We made it back just before sunset, grateful for such a wonderful experience. Let's hope we see some more good stuff as the week progresses! 
Until next time,
Nicole & Kel