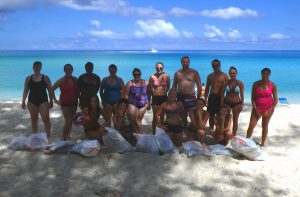 On Friday, we completed our beach clean-up. We scoured the area above the high tide line. Recycling is very limited on the island and we still managed to pull out 2 bags of recyclable bottles. Even though we started soon after 900, it was so very, very hot! We rewarded ourselves with a swim to cool off. Afterwards, some of us joined Dr. M on a quick shopping trip to get canned goods to donate to the Methodist Church. It was a little lesson on island prices too! Lots of things were much more expensive and then some items were similar to US pricing. 
After lunch, it was time for our final boat trip – it was epic! Right away we saw bottlenose dolphins. There were four dolphins, including a presumed mother/calf pair, a juvenile and another adult. The dolphins were crater feeding and the calf was adorable! We got to see the calf nurse, and the whole time we watched a seemingly curious barracuda. It was exciting to see one so clearly! The water was so still, it was a really nice way to observe the dolphins. Suddenly, the dolphins were gone! We weren't sure what would pull them away so quickly, so we quickly got back to the boat. Thankfully, we were told that the dolphins had simply been coaxed away by another boat wake. Still, we decided that we had just finished a fantastic dolphin swim and that would leave these dolphins and gamble that we could find spotted dolphins. Corrin commented that she would love to see a mixed species group… 
On our way, we took a quick break to sing Happy Birthday to Captain Kat and enjoyed cookies in her honor. The sea was so calm, we hoped it would be easy to spot to dolphins – and it was! It was big group of Atlantic spotted dolphins. They were a bit scattered, but there were at least 19. Over the course of the sighting, we saw lots of bow riding and pectoral fin rubbing. We got in the water with this group, but they were moving a bit too fast for us to keep up. So, we focused on our surface observations. There was some fantastic leaping, especially when two outboards cruised through and the dolphins leapt to their wake! We also saw pushing behavior – two dolphins were pushing another dolphin. Suddenly, the group became even more active; and we realized at least one bottlenose dolphin had joined the group! Seeing the dolphins side by side really showed us the size difference. Soon after, we lost sight of all the dolphins. No worries, we were all thrilled with such an amazing last day on the boat. What a way to end the course! 
We had a wonderful last group dinner and then a fun night out at Sherry's. With the crescent moon, Venus and Jupiter just above the sea, we enjoyed some tourists' fireworks before starting our own bonfire. We got dance lessons from Sherry and all around enjoyed ourselves! Thank you Bimini! 
To be continued,
Colonel Potcakes (EKU 2015)