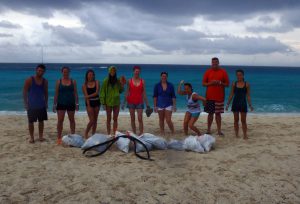 Saturday was our last full day with "The PEDuncadunks" (SHU 2015) and it began with torrential downpours. We had planned to do our last-day beach cleanup right after breakfast but the intermittent rolls of thunder delayed us for a bit in the hopes that the storm would clear up. At around 10 it seemed that we might have the perfect window of opportunity so we headed out to the beach with our garbage bags and sanitary gloves…and it started pouring. Since we were soaked through within minutes, and most of us had our bathing suits on anyway, we decided to stick it out and finish our cleanup. After about an hour we felt pretty confident that we had done a good job. Also, we could see another storm moving down the island towards us so it felt like an appropriate time to finish up. We are happy that we are able to give the students a chance to a little bit back to the island after all of the amazing experiences we have had here.  
After the beach cleanup we went back to the hotel to dry off. Since it was the raining the hardest it had all day, we chose photo-ID over a beach snorkel. We took a look at some of the photos from our trip on Friday, the one during which we encountered two juvenile spotted dolphins. We were able to confirm the ID of the older juvenile: #101 was with us! The students, on their own, were also able to identify Speedy (#78) who was with us earlier in the course, not knowing that it was a bit of foreshadowing… 
Once we had finished up with photo ID, it was time for lunch. A few folks went over to CJ's to pick up some Bahamian food items (mmmm, crack conch) to accompany our soup and salad. They understandably wanted to cram in as much of the island life in as possible! 
We left the Sea Crest Marina around 1500, as has become our custom. We set off on our dolphin-searching path and were surprised to see how calm the water was, especially given the amount of rain we had been getting all day. As we followed our usual trajectory, the waves did pick up a bit but it was still good dolphin-spotting weather. After about 90 minutes of searching, we came across a group of seven Atlantic spotted dolphins who seemed to be surfing the waves and traveling in the opposite direction. Captain Al turned the boat around to see if we might be able to identify any individual dolphins. After a few minutes we lost sight of the bulk of the group among the waves and whitecaps. The dolphins who stayed within view turned out to be three males whom we had seen earlier in the week and we were able to identify all three from the bow! We saw Split Jaw (#22), Prince William (#64) and Speedy (#78)! These three were traveling too fast for human swimmers so we were able to observe them from the boat. But suddenly, the dolphins slowed their pace and Captain Al gave us the OK to gear up and slide into the water.  
Based on what we had been observing from the surface we were mentally preparing ourselves for a brief encounter; we thought the dolphins might decide to continue their travels and leave us in their wake. Fortunately, they continued their slower pace and we were able to observe them for almost an hour! Everyone was able to get great IDable photos and lots of video. The students saw so many social behaviors that we have been talking about in class over the past two weeks, as well as some behaviors that are still a bit unclear. DCP will have to go back and watch all of the video footage to try to understand what might have been going on between the three "pals." 
Once back on the boat we were all in high spirits. We pulled out our boat snacks and excitedly shared the many observations we each collected. What an excellent way to wrap up a great trip! The students commented that they never could have imagined that they would see the things they saw, especially after our first few bad-weather days off the boat.  
We returned to the Sea Crest Marina a bit after 1900, with students showering up for their last night on Bimini. They toasted to the completion of such a great course (well, near completion; papers still need to be written!). And then after our delicious dinner of tortellini and "vodka sauce", we got ready to go out on the town–to Sherry's Beach Bar! We all wanted to try some authentic Bimini drinks but we had no idea what else we would experience…Sherry came out and taught us some Bahamian dances! In no time she had us all jumping and twisting and laughing and jucking–yes, that is a real word! And according to Sherry, it is something that only men can do. Alex and Christian certainly mastered the move and continued practicing all night! Everyone's "peduncadunks" got a great workout and we had a great time! It was an awesome last night to complete an incredible experience on Bimini. 
On Sunday, it was an early breakfast to be ready to see the students off at the water taxi shortly after 900. This group gave us lots of laughs and fantastic dolphin (and reef fish and shark and stingray and eagle ray….) observations. We just hope they look back on this course fondly over the years! A big thanks to the students, Dr. Yeater and the Sacred Heart University study abroad department! 
Until next time,
Nicole & Kel