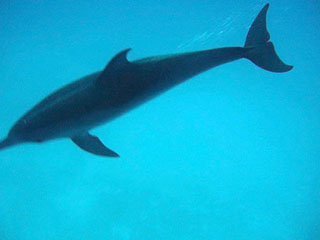 It was another exciting day on the water for DCP researchers! Kel and the Parallax Film Productions crew got an early start. During a swim break, we were visited by a group of at least 10 spotted dolphins. We hopped in the water quickly and were pleased that two mother/calf pairs stuck around: Lil' Jess (#35) and her female calf and un-named #70 and hers. We thought that Lil' Jess looked suspiciously plump – maybe she is pregnant again! Soon, this foursome was interrupted by a group of at least 8 dolphins, who appeared to be mainly adult males, including Lumpy (#17) and un-named #24 and #75. Later, after spending some time filming in deeper water, Kel and crew encountered the same group of spotted dolphins, plus a few new additions, including Speedy (#78) and Prince William (#64). As if that wasn't enough excitement, we also saw two bottlenose dolphins on our way back to the dock.
Meanwhile, interns Amy, Alexis, and Lauren headed out for an afternoon dolphin trip. The ocean was almost as placid as a lake and shining blue, with clear skies overhead, so we had high hopes of seeing dolphins! At 16:00 we were rewarded by the sight of four crater-feeding bottlenose dolphins who came to ride the bow for a minute, letting us get a close-up view. Then, at 17:38, we were approached by two spotted dolphins wishing to lazily ride the bow. Similar to our experience yesterday, we discovered that when we tried to join the dolphins in the water they swam away but as soon as the boat's engines cranked up, they were back at the bow! Apparently they thought the boat was more fun than us! We had a series of similarly brief encounters with these and a few other spotted dolphins. At 18:50 we spied two bottlenose dolphins crater feeding. We observed them for a few minutes, but the sun was sinking low in the sky so we decided to start heading in. On our way, we cruised right into a new group of at least 20 spotted dolphins. Not wanting to pass by such a large group, we slid into the water for one last snorkeling attempt. This time, happily, the dolphins didn't ditch us right away, so we had the chance to snap a few photos. One calf (pictured) was particularly playful, zipping circles around Amy while whistling and releasing a bubble stream from its blow hole. This was an exciting conclusion to a very eventful day!
Thanks to Bimini Adventures (and their guests!) for all the great boat time!
Cowabunga pals ,
Amy, Alexis, Lauren, & Kel