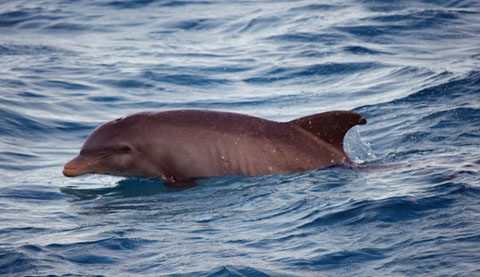 On Wednesday morning, we discussed last night's film and dolphin cognition. There is great research that is ongoing, but many questions remain unanswered. What is the importance of self-recognition? Do dolphins have Theory of Mind? We caught up on other readings as well, including "sponging" by dolphins which may be an element of culture. The specific tool use is currently passed down through matrilineal lines (vertical transmission of culture!). We found it interesting that it is the females who show this behavior. Other readings included DCP's research into pectoral fin contact and other work on coefficients of association among female spotted dolphins.
After class, we got away from dolphin discussions and got to see the island and experience some of its culture. We toured all of gigantic Bimini aboard the Bimini Tram. With Lorrick as our guide, we passed the goats, a golf cart repair "shop," and the local baseball field. Along the way Lorrick shared Bimini facts, including that several young Biminites were recently drafted to Major League Baseball teams. We saw Resorts World Bimini's property and now have a better sense of the development that we have been referencing all week. We stopped at the Porgy Bay Park playground while we waited for Stuart's Conch Stand to open. The empty conch shells were used to create a pen for live conch. In order to catch the conch, a fisherman gets towed behind a small boat, diving down when they swim over the conch. We didn't know that conch have pearls and we tried our hand at getting the conch out of their shells (harder than it looks!). Some of us were brave enough to eat the conch pistol before trying the conch salad we came for. Then it was back aboard the tram to Sea Crest.
After a late lunch, we headed on the boat. We have had such great success so far, we told ourselves that we couldn't expect that every day. Aaaaaand – we saw both species! At 16:45, we saw 2 young Atlantic spotteds. The group size quickly grew to 9 individuals, including 2 calves. It looked like there were only two adults, likely the two mothers. There was a lot of pectoral fin rubbing and petting (perhaps some tactile communication!). Under water, we saw a calf with a big, dark mark across the right side of its face. We'll look at the video Kel recorded, and the photos and video we all took, soon. Some of the dolphins were playing with sargassum, including carrying it on their flukes. There were tassel barnacles on some of their flukes –something we had just discussed in class. We are all getting the lingo down and translating what we learn in class to observations in the field. Some of us saw a barracuda near the dolphins and a school of small fish. There was active rubbing from one juvenile's pec fin to another's genital region: perhaps an example of socio-sexual play.
On the ride back to shore, we all were starting to get pretty comfortable, enjoying our ride. Suddenly, Dr. Yeater called out, "Dolphins!" At first we thought it would just be a handful of bottlenose dolphins, but the group size was soon at least 13. They were on the move, traveling north. We turned around to follow them and collect dorsal fin photos for ID work. There were a lot of distinctive fins and we saw synchronous swimming (surfacing and diving). One was "chuffing" – a loud exhale, displacing water. The dolphins were surfacing with a beautiful evening sky as their backdrop. It was a nice surprise finale to the boat trip!
At dinner, we got to try another local take on conch, cracked conch. It was nice to try more local cuisine!
What will tomorrow bring?
"Cetacean Nation" (SHU 2014)