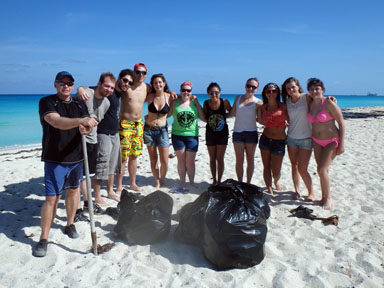 On Thursday, the UNBSJ students' last full day on the island, we began with a beach cleanup along Radio Beach. We collected quite a few bags of garbage and recyclables and we feel as though we were able to give a little bit back to Bimini after the amazing time we have spent here. Right after we took the photo of our accomplishment, many of us seized the opportunity to run into the water and enjoy the beach one last time.
Once we had all rinsed the sand off of our feet we worked on a bit more photo identification of the dolphins we saw earlier in the week. We were able to ID Lil' Jess (#35) and her calf once again. We also identified Noodle (#94) and what may be her very first calf! Once DCP is able to observe Noodle a bit more we will be able to say for sure whether or not the calf is really hers. If it is that means that we have the first confirmed extended family line—the calf would be White Blotch's (#29) grand-dolphin! 
After lunch, we had our last lecture of the trip: assessing shark predation on dolphins. We learned how to determine whether or not scars on a dolphin's body were likely due to a shark attack. We looked at some of the spotted dolphins in the DCP catalogue who have scars and used what we had learned in lecture to practice deciding whether they were caused by a shark. At 14:30, we set off on the boat as usual though it was still very windy. We went as far as we could until the water became unbearably choppy and then turned back. Unfortunately, this did not take enough time or cover enough distance to find any dolphins. We did, however, have the chance to snorkel along Shell Beach on South Bimini. It was beautiful and we were able to see many of the species of sea creatures that we have been learning to identify during our time on Bimini.
Dinner was another delicious BBQ and it gave us a nice chance to sit by the marina to chat and enjoy our last night after our full week. We ended the night with a visit to Sherry's Beach Bar to have some authentic Bimini drinks before heading to bed at the Sea Crest for the last time. We are so sad to be saying goodbye to this year's UNBSJ group, but we hope they learned a great deal and had many great experiences. Thank you for following along with us as we explored the sea and the island of Bimini.
Until next time,
Nicole, Kel & UNBSJ 2014