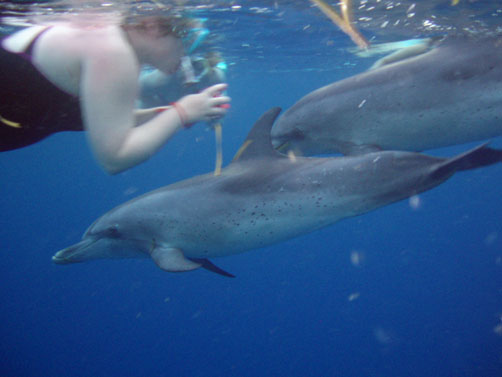 Our Monday began with class time where we discussed studies on group living, pectoral fin rubbing and tool use in dolphins. We also looked over the video and photographs that we collected during Sunday's dolphin trip. After lunch, we had a rain delay for our boat trip, but thankfully we were able to depart the dock by about 3:30 p.m.
We were hoping that after yesterday's no-show dolphins, they would make it up to us: and oh, boy they did! But, they made us wait. First, we saw a large splash in the deep water, but never did figure out what it was. Then we saw a lone, young spotted dolphin, but it had no interest in our boat. After some surface observations we left this dolphin in hopes that we would find more on the way home. With the day's light fading, we had to pick up the pace, but even though we were going fast, our Professor saw dolphins to the west. It was a large group of spotted dolphins, but because we were running out of daylight, we did not have time to observe the dolphins from the surface if we wanted a chance to observe them under water. We didn't know if they would stay, they did! There were at least five dolphins, including two bottlenose dolphins, but soon there were only two young spotteds. They stayed near the surface and gave us all a chance to observe them quite closely. Tilly (ID#87) was there with another juvenile – we look forward to trying to ID her. We saw a lot of pectoral fin contact between the two dolphins; at times, it seemed the unknown juvenile was the initiator and the rubbee! They were circling Kel and the MVA and there was some playful mouthing between the juveniles. We heard some vocalizations, but overall they were pretty quiet. They were playing with a lot of seaweed and sea grass as they encircled us and at times this play was mutual with a single piece of sargassum; they certainly weren't camera shy. At times, the dolphins approached from behind in different positions. With light fading, it was really time to go home – Kel and Dr. Yeater were the last to exit the water and Tilly (ID#87) gave them quite a show barrel rolling with a long piece of sargassum! Back on the boat, we were all so excited – including Kel and Dr. Yeater. It is good and okay to be excited about your work!
Back at the hotel we had a wahoo dinner and since we had gotten back so late and were excitedly reviewing all our video, soon it was time to get to bed!
Until tomorrow,
"Bobby & The Bimini Babes" (SHU 2013)