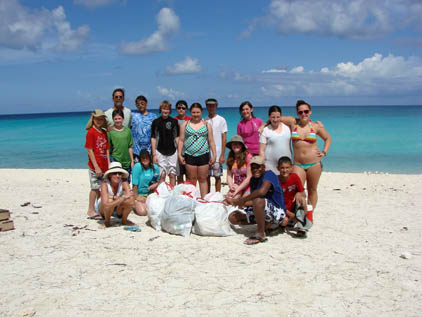 Happy July! We had a great Thursday that began with a beach clean-up: we filled 3 trash bags in 20 min! In total, we filled 9.5 bags of trash and while we all felt good about removing the trash from the beach, we were also all a bit distressed by the need to have a beach trash clean-up. We'll try to add a photo to this post soon!  
Liam: We saw a lot of spotted dolphins today and they had a lot of young dolphins like calves and they were jumping a lot in the air. Bill: Today we swam with spotted dolphins and one of the younger calves swam underneath me and broke off about 3 feet below me. Today at the 3 Sisters snorkel site, I saw fish eating a lobster. Ben: Today we saw spotted dolphins and one of the calves was very energetic and was jumping out of the water a lot.  Athan: Today was a great last day because we saw lots of spotted dolphins with their calves and we also saw a barracuda and a remora. Sam: Today we went to a snorkel site called the 3 Sisters and under the water there was a coral reef with lots of colorful fish and moray eels. E: In the morning, we got to clean up the beach and I thought that was neat and I had a great time. And we got to see this nighthawk which was hiding inside the bushes. And it was grouchy that we almost stepped on it. Then we went to the straw market to get souvenirs. Then we visited a reef called 3 Sisters. It was not rainbow colorful like the ads but I took a lot of pictures. Then we got to swim with some spotted dolphins and they were really energetic and liked bow-riding. I can't believe we are leaving tomorrow. Emily: In the morning, we went to the straw market and I bought some gifts for my family. And on the boat later, I watched a baby spotted dolphin jump out of the water and when I was in the water I heard their chirps and whistles. Gabrielle: Today I saw Tina who is the dolphin I was studying in class. It was interesting to see her in real life.  Jack: Today when we went to clean up the beach we saw a wet suit that was abandoned and we picked up 9.5 bags of trash.  Stephanie: Today we went to the straw market and there was a dog there that I shared my water with and I would also like to say Happy Birthday to my dog at home, Passion.  Sarah: During the beach clean-up today I realized that we should all take part and do something good for the environment.  Porter: Today we went to the straw market and I bought one thing for each person in my family.  Becca: Today we went to the 3 Sisters dive spot and I saw lots of fish that I knew – a gray and a French angel fish. We also went swimming with spotted dolphins today and they were very active. I saw Swoosh from the boat and was excited to see her. Gary: There is a scene in close encounters when a half dozen alien craft zipped past people on the ground. That's what it felt like when we were in the water with the spotted dolphins. They came out of nowhere and zipped around us, over us and under us and then they were gone. And, Happy Birthday, Jean. I love you! Alexis: I think today was a wonderful last day because we got to clean up the beaches and offset our carbon footprint. And we finally got to swim with our spotted dolphins. However, we are all a little sad to leave, but still excited to go home. John: I enjoyed watching heat lightning this evening. And it was good to see the spotteds again.  
After the beach clean-up, we cleaned up ourselves and then visited the local straw market to buy souvenirs. Our last boat was this afternoon and we had the best reason for making the day longer and getting back a bit late … dolphins! We saw a group of spotted dolphins that had their own agenda, but took time out to spend a few minutes with us. We saw Juliette (#12), Tina (#14), Swoosh (#36 – and her male calf?), Lone Star (#56), Prince William (#64), Nemo (#76), Leslie (#80) and un-named ID#93 (#12's calf). They were surfing the waves and spending time at the boat and in our stern wake. It was a great way to finish a very jam-packed week! Tomorrow, we return to the USA and then to CT. We'll stay-tuned to Kel's field reports to keep track of the dolphins throughout the summer.
Cheers
Kel, Kathleen & the DRTs