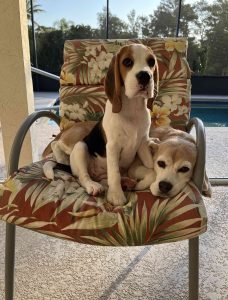 Packing. Reviewing my lists (yes, I'm a list person). And, confirming everything is ready for the field.
We (Manon and I) will be at Anthony's Key Resort (AKR) for four weeks with three groups to study the dolphins and learn about our research, the environment, and lots of other related stuff.
The first group is a new field program from York University in Toronto, Canada, with Dr. Kristin Andrews. The second is a Colorado State University (CSU) group with Dr. Shane Kanatous. The third group is a mini-ecotour.
We look forward to seeing the dolphins again after a few months and seeing how much each of the calves have grown! I'll be leaving a tiny being behind in the excellent care of John and Baloo. Meet Hazel and her big sister Baloo. Those of you who've followed DCP for years might remember the Seabeagles! Umi, our first beagle born in Japan, was the Mighty Seabeagle – who vehemently disliked the water in any form except to drink it! Dixie, our Mini Seabeagle, joined us after Umi crossed the Rainbow Bridge. Dixie was a unique Seabeagle in that she did not chase bunnies or squirrels (ok, maybe the latter were chased once in a while!). When Dixie was about 4, we decided she needed a buddy and a job. Enter Baloo, our Micro Seabeagle (detect a theme here?!). Baloo is just plain sweet, though she does chase bunnies if she can! It took Dixie a bit of time to warm to Baloo, after all she was an only child for 4+ years! But they became buddies.
Dixie Joined Umi across the Rainbow Bridge in June 2022, and after several months, we decided Baloo needed a little sister. Hazel, our Macro Seabeagle, is currently our tiniest hound but with the longest ears and the longest howl bark of the pack! She is very assertive and is testing Baloo's patience daily.
Why did I provide such a long Seabeagle introduction? Well, because they are my canine kids and I'll be missing them (and John) while in Roatan observing and learning with dolphin and student groups! So, Baloo and Hazel will be included in my Instagram posts and occasionally might appear in our DCP blog posts.
Manon and I will introduce the York student group on Sunday evening after everyone arrives safely!
Until then,
Cheers
Kathleen & Manon